This post is all about cheap Casio keyboards.
Casio is a well-known brand renowned for its budget-friendly yet quality beginner keyboards. While it has keyboards for advanced players as well, it is one of the biggest players in the entry-level keyboard market with a wide range of quality options it offers at different price tags.
Today, we will delve into the lower end of the price spectrum and share the cheapest Casio keyboards you can get in 2023. Whether you're a beginner pianist, a parent looking for an affordable keyboard for your child, or a professional musician in need of a backup instrument, Casio offers a range of budget options to suit your needs.
One thing to keep in mind is that despite their low prices, these Casio keyboards are still solid options. They deliver exceptional quality and functionality with many exciting features that you won't find in any other keyboards at similar price points.
In fact, I have recommended all of these keyboards in my previous posts several times, and I wholeheartedly stand by my recommendations once again.
If you don't have time, this is a quick summary of the best cheap Casio keyboards:
Did you know Yamaha also makes budget keyboards? If you didn't, you might want to check out these best cheap Yamaha keyboards as well.
---
Best Budget Casio Keyboards
The CT-S200 is the cheapest Casio keyboard in the 61-key range, but don't get fooled by its price. My honest opinion is that it's really a top-notch beginner keyboard with impressive features and is a fantastic option for any learner.
It boasts 61 full-size keys and an extensive library of 400 sounds, 77 rhythms, and 60 songs. It also features Casio's newer speaker design and eq technology, producing a quality sound without any distortion from the speakers.
If you are looking for a portable keyboard that is easy to travel with, Casio CT-S200 is an incredible choice. On top of being incredibly lightweight, it comes with the classic built-in carrying handle featured in some of Casio's portable keyboards, which makes carrying the keyboard very convenient.
Plus, the layout of the CT-S200 is very simple and easy to navigate with only a handful of buttons and an LCD screen, which is a great perk for especially kid learners. The Chordana app integration and Dance Music Mode also greatly enhance the learning experience.
Overall, Casio CT-S200 is a solid option among Casio's budget keyboards and can make a great first instrument for beginners.
Read my full review of Casio CT-S200 here
---
Featuring 61 touch-sensitive keys and more powerful speakers than the CT-S200, Casio CT-S300 offers a more realistic and overall better playing experience. I honestly think the CT-S300 is one of the best beginner keyboards you can get in the sub 200$ range unless you need the light-up keys of the LK-S250.
It comes with a library of 400 tones, 77 rhythms, and 60 built-in songs, with piano and string tones delivering the best quality. It's indeed the case with all the cheap Casio keyboards. In general, the piano, keyboard, and string tones will sound most realistic while the other tones will not match the same level of realism.
However, it's not a huge deal breaker because if you're a beginner pianist, you'll be mostly concerned with piano tones and use other tones for occasional fun.
Overall, the CT-S300 is an ideal beginner keyboard with additional features that add more excitement to your practice sessions such as the pitch-bend wheel, Dance Music mode, and Chordana Play app integration.
Boasting a built-in carrying handle integrated into a slim and lightweight body, Casio CT-S300 is also super easy to carry.
---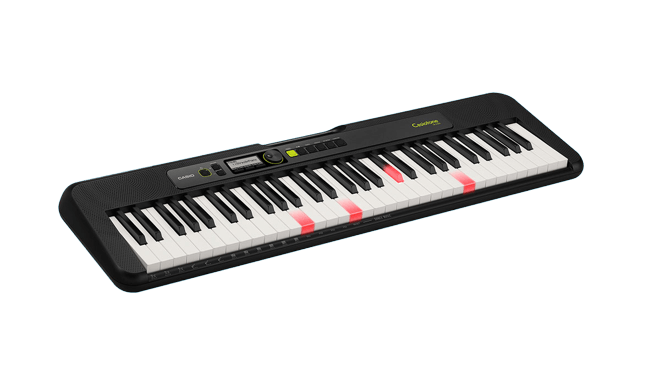 If you're a self-teaching beginner and looking for a decent keyboard to learn piano on, Casio LKS-250 is an incredible option. If you're on a tight budget, it's also one of the best cheap Casio keyboards for an incredible price with an impressive range of features.
The highlight feature of the LK-S250 is its light-up keys, which is an amazing visual learning system. As you learn to play songs, the keys light up to guide you on which key you should press next. This makes learning songs much more fun and effective and is a game-changer feature for self-teaching pianists.
In addition, the LK-S250 features touch-velocity keys, allowing the keyboard to produce a volume based on how hard you press on the keys.
The sound library is the same as other Casiotones here, boasting 400 sounds, 77 rhythms, and 60 songs.
Overall, light-up keys combined with touch-sensitive keys and an easy-to-use interface make the LK-S250 an ideal beginner keyboard.
Read my full review of Casio LK-S250 here
---

Casio CT-S1 is a step up from the Casio CT-S200 and CT-S300 with noticeably more premium and realistic sounds thanks to the AiX Sound Source, which is reflected in the price. While it can still be considered a cheap Casio keyboard, the better sound quality and unique functions of the CT-S1 increase the price to above 200$.
This keyboard features 61 touch-sensitive keys with a slight semi-weighted action. In general, it's hard to find a proper weighted action among 61-key keyboards, so Casio CT-S1 is doing the best it can in this regard at such a lightweight body.
I've recently written about the best 61-key weighted keyboards, so check that out to see beginner keyboards with even better key action than the CT-S1.
Because the CT-S1 prioritizes quality over quantity, it features fewer sounds than other Casiotones, coming with 60 tones and no accompaniment rhythms at all. Instead, you get Casio's iconic vintage sounds from the 1980s and a bunch of reverb and eq settings that you can customize your sounds with.
As if that wasn't enough, Casio CT-S1 goes above and beyond merely delivering exceptional sound quality with its advanced speaker system, ultra-compact body, clean interface, and stunning color options.
---

Equipped with 61- full-size touch-sensitive keys, Casio CT-X700 is a feature-rich arranger keyboard that opens up a lot of room for creativity and fun with exciting functions. Featuring an extensive sound library combined with a range of accompaniment styles, it will make beginners look forward to practice sessions.
If you are a beginner and looking for the perfect keyboard to learn piano, I would say the CT-X700 is your best bet. It features an incredible lesson system that teaches you to play the built-in songs in a step-by-step manner and even trains your right and left hands separately. You can learn to play a lot of built-in songs by just following this lesson system without knowing how to read notes.
Apart from incredible beginner-friendly features, Casio CT-X700 can also make a wonderful second keyboard for professional musicians. It features the AiX Sound Source technology, giving the sounds a realistic and premium character.
While it doesn't boast the same portability features as the CT-S series such as the built-in carry handle or pins to attach guitar straps, it's still portable and lightweight enough to travel with.
---

If you're looking for a budget keyboard for your little one, look no further than Casio's SA series. Featuring 44 mini-size keys, the SA keyboards are currently the cheapest Casio keyboards and are geared toward toddlers.
Despite their small size, the SA models offer a surprisingly wide range of features for kids to experiment with. Featuring 100 sounds, 50 rhythms, and 10 built-in songs, the SA-76 allows kids to explore different musical sounds and styles while building their love of the instrument.
The SA-76 is also very easy to navigate as it features a simple and intuitive interface with dedicated buttons for selecting tones, rhythms, and songs. This makes it easy for beginners and kids to make them start playing right away.
Overall, at such a low asking price, you won't find better options for kids that can compete with Casio's SA keyboards.
---
Wrapping Up
This sums up our list of the best cheap Casio keyboards. I hope this list has helped you with your purchase.
If you have any questions about other cheap keyboard options or Casio keyboards in general, let me know in the comments!