This post is all about cheap Yamaha keyboards.
Looking for a cheap but reliable keyboard to begin your music journey? If that's the case, a budget Yamaha keyboard is a great option. When it comes to keyboards, Yamaha is a name that needs no introduction.
You can experience the quality even in the cheapest Yamaha keyboards. I bought my first Yamaha keyboard 6 years ago, and it still delivers exceptional performance with no sign of deterioration. It still looks and works like brand new, so with a Yamaha keyboard, I can say you're always in good hands.
This list only contains 61 key keyboards as they are naturally on the cheaper side. If you're looking for a cheap 88-key Yamaha keyboard, Yamaha P-71 is currently the cheapest option and a fantastic keyboard that I highly recommend. It's also the one I own and I'm more than satisfied with it.
Since we're focused on budget options, this list includes the best Yamaha keyboards in the sub $300 price range. Each one offers exceptional quality and features that make it a great choice for beginners or anyone on a tight budget.
Here's a quick look at my favorite cheap Yamaha keyboards:
If you're interested in exploring budget digital pianos, you might also want to check out this round-up of the best cheap 88-key keyboards.
---
Best Budget Yamaha Keyboards
Don't let the price of this keyboard fool you. Yamaha YPT270 is a fantastic learning keyboard that is both affordable and beginner-friendly. Featuring 61 full-sized keys, it comes with 401 voices and 143 styles which is an impressive range of sounds at this price point.
What's incredible about Yamaha YPT270 is that it is packed with loads of educational features to make learning music easy and fun for beginners. Some of the learning functions include quiz mode, lesson mode, and smart chord. If you're self-teaching, I believe having these functions is a huge plus and can greatly speed up your learning.
I've also found the speakers to be pretty decent for a beginner keyboard. A pair of 2.5 watts won't deliver the most impressive speaker performance, but it'll be sufficient for most hobbyists and learners.
Overall, I believe Yamaha YPT270 is a solid option among cheap Yamaha keyboards and one that I wholeheartedly recommend to beginner pianists on a budget.
---
The PSR-E373 is a fantastic 61-key arranger keyboard from Yamaha that offers incredible value for the price. It's equipped with over 622 instrument tones and an extensive range of accompaniment styles to inspire young music-makers, hobbyists, and beginner players.
What's unique about this keyboard is that it boasts 11 Super Articulation Lite Voices, which mimic the nuances of real stringed instruments and allow you to reproduce a more realistic sound. For example, while playing with the guitar sound, you will hear the fret noise just as you would hear while playing a real acoustic guitar.
From touch-sensitive keys to studio-quality effects, the PSR-E373 offers everything you need for expressive playing and creative music-making.
Coming with Yamaha Education Suite and various connectivity options, the PSR-E373 is also the ideal keyboard for anyone wishing to learn the keyboard in a fun and engaging way at their own pace.
---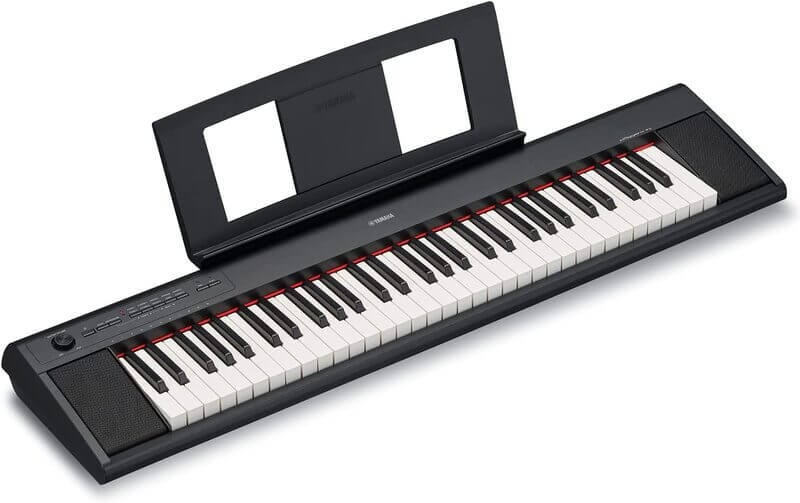 Yamaha NP-12 is the closest thing you can get to a real acoustic piano at such a reasonable price range. With a pure focus on realistic piano tones and key feel, this keyboard offers an authentic piano-playing experience and features 61 piano-style keys. Best of all, the keys are touch-sensitive.
As a classical pianist, Yamaha NP-12 has always been one of my favorite Yamaha keyboards to play on. I also like its simple yet elegant design. There are very few knobs and controls to make you concentrate on piano playing. The sound library is also very limited for the same reason.
This keyboard can also be used as a MIDI keyboard thanks to the USB MIDI function. Add to that the ultra-lightweight and portable body, and you have the perfect piano keyboard for any level of pianist.
Related: Best 61 Key Weighted Keyboards In 2023
---
Yamaha EZ300 is another 61-key budget Yamaha keyboard in the sub-300 price range, and it's the ideal first keyboard for beginners. While it's on the more expensive side of this list, the touch-sensitive and the lighted keys justify the slight increase in the price and make Yamaha EZ300 a dream beginner keyboard.
I would always suggest serious beginners learn with touch-sensitive keys if the budget is of no concern as they offer a more realistic playing experience. The lighted keys are also a unique learning feature of this Yamaha keyboard, guiding you on which note to play next while learning a song even if you don't know how to read notes.
This Yamaha keyboard also offers an impressive library of 622 voices and 205 styles in addition to various educational functions.
Overall, Yamaha EZ300 is an excellent value for beginners, packed with impressive features at an affordable price point.
---

Yamaha PSR-E360 is a gorgeous-looking keyboard that comes in two distinct colors: dark walnut and maple finish. It's a perfect keyboard to learn piano on as it features 61 touch-sensitive keys and Yamaha Education Suite, allowing you to practice at your own pace.
It comes with 573 presets, which is an impressive number for a keyboard at this price. The sound library provides you with plenty of sounds to explore and the sound quality is pretty decent, as expected from a Yamaha keyboard.
I believe this keyboard is not only great for beginners but also a solid option for experienced pianists who are looking for a portable and decent keyboard to take on the go.
---
If you're on a very tight budget, I would recommend looking into Yamaha PSR-F52. It's under $150 and offers the basic features of a beginner keyboard as well as a few fun educational functions.
It's incredibly compact and lightweight, so it can make a great backup keyboard for traveling musicians.
The standout feature of this keyboard is its rich sound library, which includes traditional voices and accompaniment styles from around the world. This versatile library provides a fun way for beginners and music lovers to explore different cultures and musical traditions.
You can read my full review of the Yamaha PSR-F52 here.
---
Wrapping Up
These are currently the best cheap Yamaha keyboards that won't break the bank while still offering decent quality. I hope you have found this list helpful and let me know if you have any questions.