This post is all about the best folding piano keyboards.
Are you a pianist who's always on the go? Or perhaps someone with limited space but still wants to enjoy playing the piano? If so, a foldable keyboard piano may be a fantastic solution!
Since I got a folding keyboard, it's become so much easier to say yes to extended travel plans without worrying about losing my progress on my pieces because I'm able to practice and play music wherever I go. Plus, folding piano keyboards don't take up much space, so they're perfect for small apartments or dorm rooms.
Regrettably, reputable brands like Yamaha, Casio, or Roland don't make folding pianos, so nearly all foldable pianos on the market are produced by lesser-known brands and they are all quite similar in most of the features.
While deciding, I would suggest looking into the price, weight, compactness, and any unique feature that the other foldable pianos don't necessarily feature.
If you're looking for an easy-to-travel-with keyboard or on a tight space, you can also check out my list of the best 61-key weighted keyboards.
Without further ado, let's look at my favorite folding keyboards on the market.
---
Best Folding Piano Keyboards
I've owned Vangoa VGD-882 for some time now and I can definitely say it's been a game-changer. I can carry it anywhere by just folding it in half and putting it into its bag. Sometimes even at home, I prefer to play the Vangoa over my Yamaha P-45 because it's much easier to carry around when I feel like playing in another room.
It weighs 9.7 Lbs (4.4 kg) and can be operated on a battery, providing excellent portability. While this keyboard is not the most lightweight folding piano on this list, it's still incredibly easy to travel with and I've had no issues.
The keys are touch-sensitive and semi-weighted, which is fantastic to have. If you're a beginner looking for a keyboard to learn on, this one is an excellent choice as it comes with light-up keys, a visual learning tool.
Vangoa folding piano features 128 tones and rhythms, along with 20 demo songs. In addition to MIDI connectivity, one of the notable features of this keyboard is that it has a Bluetooth connectivity option that allows you to wirelessly connect it to piano learning apps.
You can also read my full review of this keyboard to get more information and learn about my experience.
---
The Carry-on folding piano by Blackstar is the best option for those on a budget. It costs less than 100$ and provides a decent set of features for its price point.
This folding piano stands out with its extremely lightweight body that weighs only 2.8 lbs (1.5 kg) and folds to 13 inches (33 cm). It is almost as if it doesn't exist, and it's just so incredible to feel like you're carrying nothing while you have a full-sized 88-key keyboard with you. This makes traveling so much easier and effortless.
Other than that, it doesn't fall short of features. Blackstar Carry-on folding piano is equipped with 128 sounds and rhythms, 30 demo songs, and 6 metronome settings. The sound quality is quite decent considering that it is not what a folding keyboard is designed for.
I've definitely heard much worse sounds from other folding pianos, so I don't have many complaints about the sounds in the Blackstar carry-on.
With a midi over USB feature, it's also perfect to use as a midi controller.
By the way, if you're a beginner on a budget who wants to learn on an 88-key keyboard, this list of the best cheap 88-key keyboards can also help you.
---
This one by NikoMaku is among the best folding piano keyboards on the market and would be a solid choice for players of any skill level. It weighs 8.8 lbs (3.9 kg) and features 88 standard-size keys with semi-weighted action.
The standout feature of this folding piano is definitely the sound and speaker system. Unlike most other foldable keyboard pianos, the speakers produce a clearer and more powerful sound.
There is also a very cool noise cancellation technology that reduces the sound of the keys while playing with earphones, which is a huge plus that is not found in other foldable keyboards. This technology provides you with a more focused playing experience.
The library is almost the same as other foldable keyboards on this list, featuring 128 different sounds, and rhythms, 21 demos, and 4 metronomes.
Additionally, the NikoMaku folding piano keyboard also includes USB MIDI and Bluetooth connectivity options, allowing for easy connection to other devices or audio equipment.
---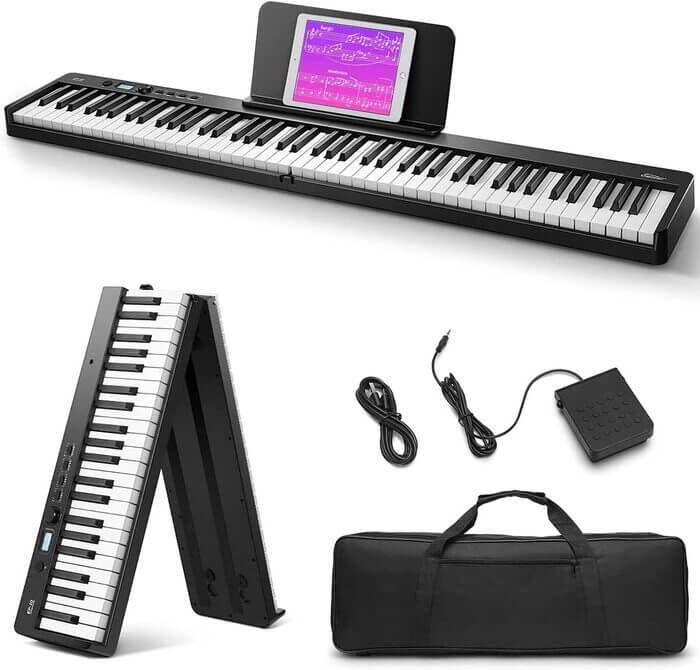 Eastar EP-10 is a beginner-friendly folding piano that boasts 88 standard size semi-weighted and velocity-sensitive keys. Much to my surprise, the action and feel of this keyboard are very decent compared to other folding piano keyboards on the market. By no means it feels like a real piano but it provides more than just acceptable performance.
With a weight of 8 pounds (3.6 kg), it's also among the most lightweight folding pianos you can find. Similar to other pianos on this list, Eastar EP-10's library consists of 128 tones and 20 demo songs, providing you with enough voices to play and experiment with.
Equipped with useful teaching functions such as split, learn, and chord modes as well as MIDI and Bluetooth connectivity, Eastar EP-10 is a great option for beginner players.
---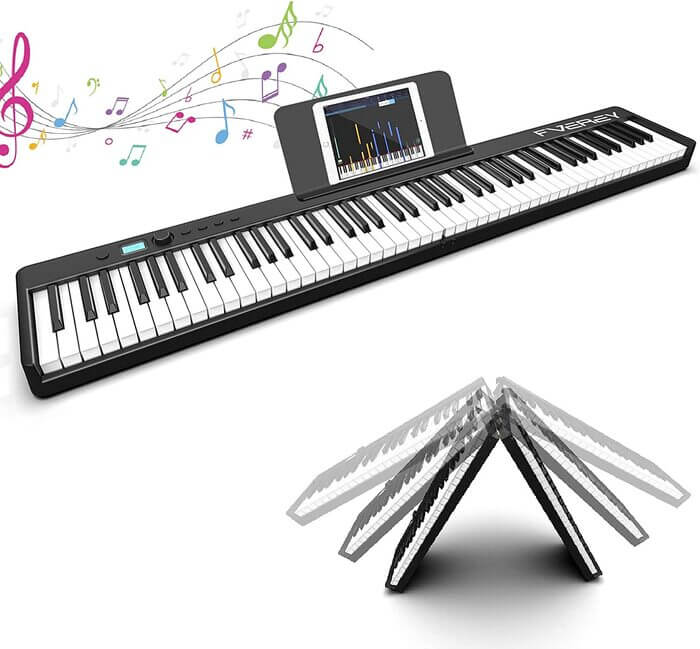 Fverey folding keyboard is a perfect choice if you wish to have a more extensive rhythm library, as it features 128 rhythm patterns in addition to 128 sounds and 21 demos. The full-sized keys are touch-sensitive with a somewhat semi-weighted feeling, offering a decent amount of resistance.
This keyboard is also very compact and lightweight, weighing just 8.8 lbs (3.9 kg). It features a MIDI/USB interface as well as a Bluetooth connection, offering a range of options for connecting to external devices such as computers, tablets, and smartphones.
Overall, this one is another great option for anyone looking for an affordable, portable, and feature-rich foldable keyboard.
---
Wrapping Up
I hope this post has helped you choose the right folding keyboard for your needs. If you're still confused about which one to buy, please post your question or e-mail me, and I'll respond quickly.