Are you a musician wishing to create a more functional and stylish workspace? If yes, piano keyboard desks may be exactly what your space needs. They are perfect additions to any practice room or studio.
Piano keyboard desks can range from simple 2-level desks with a keyboard tray to all-around large studio workstations. No matter what type of desk you're looking for, it's important that your piano desk features enough space for your keyboard size, and is sturdy enough to securely hold it.
If you want to use your desk not merely as a piano desk but as a workstation with multiple shelves and additions to put your other gear and accessories, you'll find many options here to suit your needs.
Here are my top picks for music keyboard desks geared towards piano players, producers, or any musician looking for a solid desk to accommodate their keyboard.
Best Desks for An 61-Key Keyboard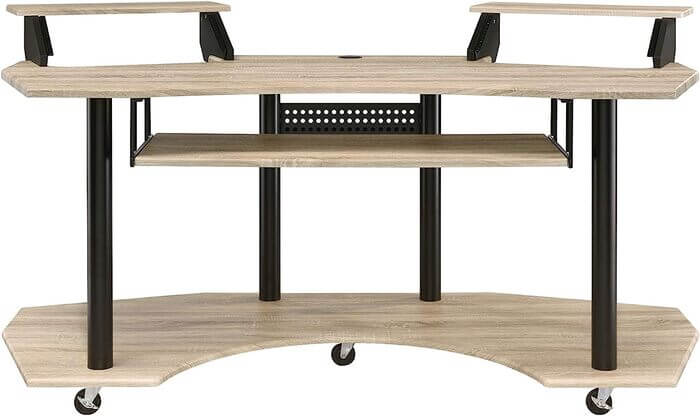 This studio desk by Acme Furniture tops our list because it combines everything we are looking for in a keyboard desk: size, functionality, and aesthetics.
It features 2 stands and a spacious desktop stand with an under-desk keyboard tray that can easily accommodate a 61-key keyboard. With cable management features and multiple drawers, this desk offers plenty of room and organization for not only your keyboard but all studio equipment.
Constructed from wood and metal, it's also incredibly well-built and sturdy. To be honest, for the price point, I'm surprised to see such build quality and functionality together.
Its natural oak finish makes it look like a beautiful piece of furniture. Overall, if you're looking for an all-around piano keyboard desk that is aesthetic, cheap yet very functional, this one is hard to beat.
If you're on a budget, definitely look into the WS7500 by OnStage. It has a simple and functional design with a slide-out keyboard tray, which can fit keyboards up to 61 keys. The desk is constructed with durable steel, ensuring your keyboard is held securely in place while in use.
In addition to the keyboard tray, it features a sturdy tube frame and an upper shelf, all combined in a Z-frame design for optimal ergonomics and durability. Overall, the WS7500's simple and minimalistic design will beautifully complement any space.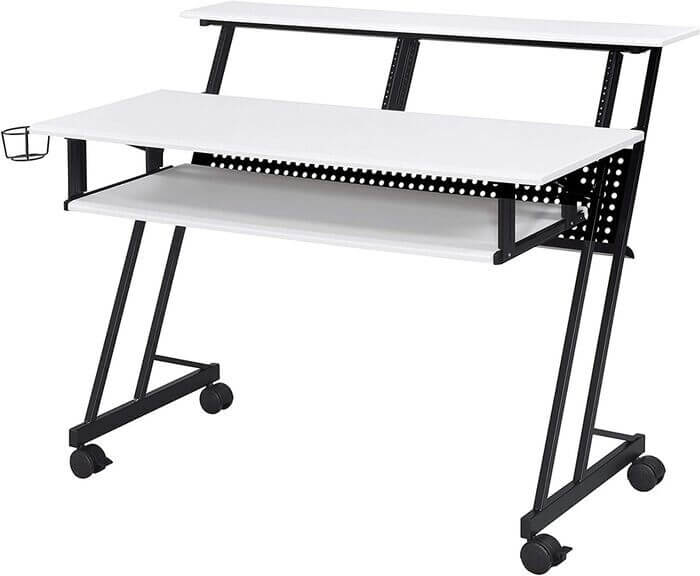 The Acme Furniture Suitor Recording Studio desk is a stylish and functional option for anyone looking for a budget piano desk. It features a 40-inch pull-out piano keyboard tray, which means it can comfortably hold a 61-key keyboard.
It is incredibly easy to assemble and the overall build quality is just excellent. It is made from MDF wood with a PVC Veneer, offering great stability and sturdiness.
Boasting multiple shelves, a cable management system, a cup holder, and open caster wheels, this piano keyboard desk is the epitome of functionality and simplicity without sacrificing aesthetics.
Best Desks For An 88-Key Keyboard
Solid, functional, and elegant, The Glorious Studio Workstation is an exceptional choice for those in need of a piano keyboard desk that can securely hold their 88-key keyboard. The solid construction of the desk with a 3-level functional and aesthetic design makes it an excellent addition to any room.
Best of all, this spacious and feature-rich desk is quite affordable, so definitely consider this if you're looking for a full-sized budget piano desk.
The desk comes with a piano keyboard tray, but you can also place your keyboard on the main surface as you wish. Both areas have enough space to fit most 88-key keyboards. What I like is that the keyboard tray has 4-levels of height adjustability, which greatly adds to the ergonomics and functionality of the desk.
If you only need a simple desk to put an 88-key keyboard on without breaking the bank, this piano desk by Gator Frameworks is your best bet. The solid steel construction offers great stability and durability. With a beautiful driftwood finish, I think it also looks incredibly stylish and beautifully blends with other furniture around. If you like the design but not so much the color, it's also available in 4 colors.
This piano keyboard desk boasts a unique cable management system and a removable accessory shelf for your laptop or other accessories. If you'd prefer this desk for your 61-key keyboard, that option is also available.
We're absolutely in love with this piano keyboard desk! Not only is it lovingly crafted by hand from solid pine wood, but it also boasts a stunningly minimal and modern design that's positively brimming with warmth and charm.
Designed with versatility in mind, this desk offers multiple tiers to accommodate an 88-key keyboard, computer monitors, and other accessories, and can even be customized to fit a smaller keyboard. With a range of color options available, this desk is as functional as it is stylish, making it the perfect addition to any musician's practice room.
The Glorious Studio Workbench is a modern and stylish option for anyone looking for a sleek piano desk that can fit their 88-key keyboard. With a solid wood frame and a white high-gloss finish, this desk looks stunning and complements any room decor.
It has a detachable shelf for your laptop or other supplies, holes for cable management to keep your connections tidy, and a sliding keyboard tray that can fit an 88-key keyboard.
All in all, this piano desk is a great choice for any musician looking for a functional and attractive workspace.
This 88-key studio desk from Etsy is a custom-made option for those who want a unique and functional desk for their piano keyboard. This desk is handmade from wood and finished with a teak stain, which gives it an incredibly stylish and retro look.
Best of all, if you need a different kind of finish or any additional part, you can customize it the way you wish. It's not the most affordable option on this list, but if you're looking for a one-of-a-kind desk that matches your personal style and needs, it is definitely worth considering.
Wrapping Up
I hope you like my picks of the best piano keyboard desks. I've tried to pick the ones that are both affordable and functional.
Let me know which one you've chosen!