This post is all about the best Playlist Push alternatives to get your music on Spotify playlists with organic methods.
Spotify playlists are where most people discover new music these days. Given the platform's immensely growing popularity, it doesn't look like that will change anytime soon. Therefore, it'd be fair to say that from building a fanbase to jumpstarting your music career, today getting your music into impactful Spotify playlists is one of the most effective strategies for independent artists.
However, this is hard to do on your own especially if you're a new artist with no curator contacts in the industry. This is where the Spotify playlist promotion services like Playlist Push come in. These services have access to a vast curator network to pitch your track and secure you a placement in their playlists.
Among other Spotify playlist promotion services out there, Playlist Push is one of the most popular ones. However, there are a lot of artists who are not very satisfied with the service.
The most common complaints Playlist Push receives from its customers are as follows:
Very highly-priced
Poor results
The ineffective genre-based targeting system
No guarantee of any results
No money-back guarantee
Weak customer service
Luckily, some incredible services have entered the market in recent years set out to solve these problems artists have with Playlist Push. Today, we're going to look at the 3 best ones among them.
The reason why we listed only 3 services is that there are many scam services out there. We wanted to make sure this list only features the services that we know are 100% legit, trustworthy, and most importantly, effective. Therefore, we excluded any service that even had a tiny signal of utilizing non-organic or fake methods from our initial list of 7. Eventually, we ended up with this list of 3 services that we can safely recommend over Playlist Push.
Without further ado, let's look at the 3 best Playlist Push alternatives that will help you organically increase your streams and fans on Spotify!
If you've been reading this blog for a while, you might already know that I'm a big fan of PlaylistStreams.
Founded in 2019, PlaylistSteams is a relatively new service that focuses on organic Spotify playlist promotion. Being a new service seems to have given them a chance to focus on and fix what other playlist services lack.
How does it work?
The first thing you need to do is to choose a campaign on this page. Once you select one of the campaigns and submit your song, the PlaylistStreams team will review your track and decide if it's compatible with the genres and styles of their playlist. (Your payment won't be processed if your song doesn't get approved.)
Once your song is approved, they start pitching it to the most influential playlists on their network specific to your genre. Most artists begin to see the results in under a week, though your campaign lasts until your song gets the minimum number of streams of your package.
You will also have access to reports and analytics on how your song performs across different playlists.
How is it different than Playlist Push?
Minimum guaranteed streams policy: The most significant factor that sets Playlist Streams apart from Playlist Push is its minimum guaranteed streams policy. Playlist Push does not guarantee any results. If none of the curators accept your song, there is a chance that you will end up with zero streams despite paying hundreds or even thousands of dollars upfront. Playlist Push has no policy like guaranteed streams or money-back guarantee that protects your investment as an artist.
Playlist Streams, on the other hand, has a minimum-guaranteed-streams policy, ensuring your track will get the minimum amount of streams of your package. It means that if you're in the membership package, you'll gain a minimum of 5K streams. If you're in the Gold package, you're going to gain a minimum of 20K streams. In most cases, artists report that their streams far exceed the minimum number of their packages, which is fantastic.
One thing to note here is that this minimum-guaranteed-streams policy doesn't mean that they are "buying" streams to reach that number which you'll often see in scam services. The biggest strength of PlaylistStreams is that they're following a completely organic approach, meaning all of the streams you'll get will come from only real listeners.
Pricing: Another good reason why you might want to prefer PlaylistStreams is its affordable pricing. The cheapest package in Playlist Push starts around 300-400$, while in PlaylistStreams it's 199$. Considering that there is no guarantee of results in Playlist Push, PlaylistStreams stands out as both the most effective and the most budget-friendly alternative for independent artists. You can see the pricing of each campaign here on their website.
Review process: PlaylistStreams first reviews your song before taking payment to see if it can perform well with their playlists. This greatly increases the return of investment from the artist's side. Many other services will accept any song regardless of its quality and match with the types of playlists on their platform.
Pros
Largest curator network among all of the playlist promotion services (1700+)

100% organic promotion

Affordable packages compared to similar services

Minimum guaranteed streams

Approval requirement before starting your campaign

Outstanding customer care
Cons
Curators are not required to give feedback
Because it's a new service, they aren't as well-known as their competitors yet, although I strongly encourage you to try them out.
If you'd like to learn more about this service, you can go and read my in-depth review of PlaylistStreams so that you could better decide if it's the right fit for you and your music.
There is a special discount on PlaylistStreams for my readers! Use the promo code PLSxTunes to get 25% off on Gold and Platinum Packages. (available until the 1st of March)
---
Introducing SoundCampaign: Your Gateway to Success in Spotify Promotion
SoundCampaign is reshaping the landscape of music promotion for artists. Through precision-targeted advertising, influencer collaborations, and curated playlist placements, this platform facilitates meaningful connections between musicians and their ideal audience. Its data-driven methodology, coupled with guaranteed feedback on your tracks, ensures that your music resonates with the right listeners. While absolute success can't be promised, embracing feedback and fostering creativity can propel your music career to new heights. Uncover the potential of SoundCampaign today and witness your music's true power unfold.
---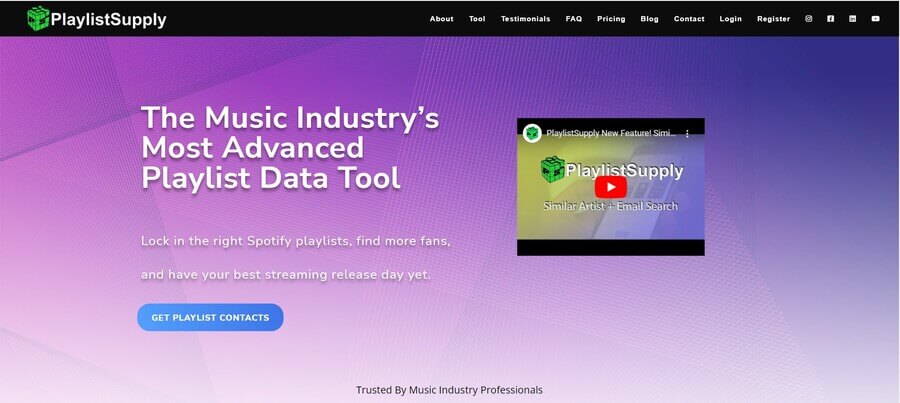 PlaylistSupply is not your typical Spotify promotion service, but a tool that helps you run your own campaigns with the playlists you choose in a time-efficient way. The main thing it does is to help you find the contact info of curators and other useful info in seconds.
It's a solid Playlist Push alternative, especially for independent artists who are on a budget, but artist managers and labels can also greatly benefit from it.
How does it work?
Playlist Supply features a tool in which you type in any keyword to find relevant playlists. After you type in the keywords, you have to select criteria. "Criteria" informs the tool about the type of contact information you wish to see (e-mail, social handles, etc.). Once you select the criteria, the tool searches through all Spotify and lists the best playlists that match your search.
The tool not only gives you the contact information of playlist curators, but also shows other useful information such as the follower count, track count, playlist popularity score, and the date it was last updated.
Another cool feature is that you can export your results as CSV, PDF, or an Excel file and work on your campaign in a more organized way. You also have the option to save the playlists you choose to your own database in the platform and monitor them.
How is it different than Playlist Push?
The way PlaylistSupply and Playlist Push work are quite different from each other. Because Playlist Supply is only a tool, it doesn't pitch your music to playlists for you as Playlist Push does. What it does is that it finds the most relevant playlists for you and the contact information of those playlist curators. It makes the playlist researching process a whole lot easier and faster, though you still need to contact each playlist yourself.
This makes Playlist Supply also a good SubmitHub alternative for those who prefer to be more actively involved in the pitching process.
The price is also way more affordable than Playlist Push. It only has a monthly fee of $19.99, which you can cancel at any time.
Pros
Not genre limited

Allows unlimited searches

Cheap

Easy-to-use

Good customer service
Cons
Manual submission – Playlist Supply doesn't submit your track to curators. You have to contact playlist curators for placement on your own.
---
Specialized in Spotify playlist promotion, Playlist-Promotion.com is another solid and even better alternative to Playlist Push. The reason is that just like PlaylistSreams, this service does a good job of resolving the main concerns and problems artists mostly have with Playlist Push.
How does it work?
Once you submit your song through this box on their home page, your track will be reviewed by the Playlist-Promotion.com team. If it's approved, they will get back to you with their marketing plan for your song and the different packages they offer based on different budgets. There is also an option to directly buy one of the campaigns on this page.
Once you choose a package, they immediately begin to pitch your song to the curators on their network. Artists usually start to see the results in as little as a few days. You'll also be provided with a detailed report for all the playlists your song was placed in and the number of followers on each of those playlists.
Their system is slightly different than both Playlist Push and Playlist Streams. Playlist Push doesn't guarantee any results, while Playlist Streams guarantees a certain number of streams based on various packages they offer. Playlist-Promotion, however, works on the number of followers basis. Choosing a campaign for 5.000 followers means that your song will be placed in the playlists whose number of followers total up to 5.000. It could be either one playlist with 5.000 followers or 5 playlists with 1.000 followers.
How is it different than Playlist Push?
Guaranteed placements: We've already mentioned that Playlist Push doesn't guarantee any results, nor do they have a money-back guarantee for the customers that are not satisfied with their results. Playlist-Promotion, on the other hand, keeps adding your track to playlists until the total follower number of those playlists reaches the number your package includes. If the total number of listeners that your song gets in front of falls short of your package, then they will give you a refund.
I think this refund policy is one of the key factors that set them apart from Playlist Push.
In addition, the company is incredibly transparent and responsive, so you always have the assurance of getting your money back if things don't work out for you. This gives you a great sense of comfort, something you don't experience with most other companies.
Review process: Similar to PlaylistStreams, Playlist-Promotion also reviews your song before taking payment to see if it's eligible for the promotion. This protects your money from being spent on a campaign that won't have effective results for you.
Pros
Review process before payment

Guaranteed placements

A vast network of playlists with real listeners

Excellent customer support

Money-back guarantee
Cons
The cost is almost the same as Playlist Push

While the playlist placement is guaranteed, which spot your song will get in the playlists is up to the curator. For example, the last spot on a playlist with 5.000 followers may not result in a significant number of streams.
Visit Playlist Promotion Website
---
If you're looking for a free alternative to Playlist Push, then I'd highly recommend checking out Daily Playlists. This free service allows easily pitching your track to multiple playlists in your genre and is one of my favorite services.
Even if you're using a paid promotion service, it's a good idea to use Daily Playlists as well because using it is incredibly effortless and quick.
How does it work?
The entire procedure is straightforward. You add your song's Spotify URL, then select the playlists to which you want your track to be sent. The playlists may be sorted by genre, which makes the searching process much easier.
You can check which playlists have accepted or rejected your music from the dashboard. You also get notified through your e-mail whenever a curator accepts or rejects your song.
How is it different than Playlist Push?
The way Daily Playlists works is a bit different from other paid playlisting services. For example, in Playlist Push, you don't choose which playlist you're going to submit to. The Playlist Push team does it on behalf of you. On the other hand, in Daily Playlists, you have to manually select which playlists you want your song to be in.
This feature makes Daily Playlists also a good SubmitHub alternative for those who prefer to be more actively involved in the pitching process.
Pros
Free

Modern, easy-to-use interface

Quick and easy submission

Allows building mailing lists
Cons
Manual submission – Daily Playlists doesn't submit your track to curators. You select curators and submit your song to them on your own.

The time it takes to hear from curators is relatively longer than it is for other services

A limited number of submissions with the free plan – you can submit to 25 playlists in a month
These were the 3 best alternatives to Playlist Push. Do you know any other service that would be a good alternative to Playlist Push?
Let us know in the comments!
---
What's a good alternative to Playlist Push?
PlaylistSupply is a good alternative to Playlist Push. It's cheaper and allows artists to reach all curators instead of a limited network of playlists.