This post is sponsored by Playlist Supply. All opinions are my own.
Spotify playlists are how we discover new music nowadays. With more than 4 billion user-curated playlists on the platform, playlist marketing is an opportunity too big to miss for indie artists.
When I released my debut single, I manually searched for user-curated playlists and created a spreadsheet of playlists to submit my music. Some of those playlists had curator contact information, and some did not.
Searching for independent playlists was kind of a wild game and I would often feel lost. It was not only overly time-consuming but also ineffective. I knew there were many more playlists than I could find with my manual research, but I just didn't have enough time and resources to reach all of them.
I was recently approached by Playlist Supply to check out their tool that makes our lives as indie artists much easier. By automatically finding the best playlists and their curator contact information, it saves a significant amount of time and money for indie artists.
We will dive into all the features, pros, and cons of the tool in the article. But, if you want to hear my opinion up front, I can say it is absolutely a game-changer for playlist promotion. It's cheap, effective, and simple to use.
Whether you're an indie artist, manager, or label, Playlist Supply can take your playlist promotion to the next level.
---
What Is Playlist Supply?
Playlist Supply is an innovative tool that helps artists and their teams find the best playlists, curators' contact info, and other useful playlist data in a time-efficient way.
By making use of the complex algorithms, Playlist Supply automates the playlist researching process that we normally do manually. In just a matter of seconds, it provides artists and teams with all information they need to start pitching their music to playlists.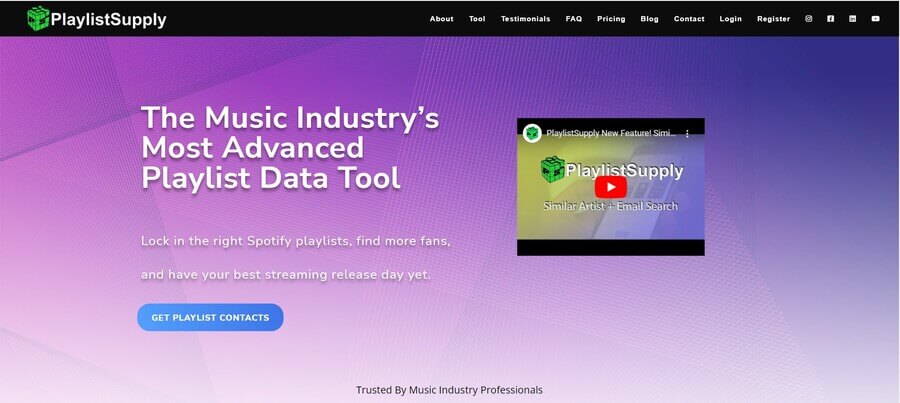 Founded by Benji Stein, an artist manager and creative director, Playlist Supply was born out of Stein's frustration with scammy playlist promotion services and the difficulty of getting into Spotify editorial playlists for indie artists.
After seeing many other managers struggle with playlisting I created an automated tool for playlist research. That's why I wanted to make the process more accessible to myself, my friends, and indie artists who may not have a team, label, or budget.

Benji Stein, Playlist Supply CEO
One thing to note is that PlaylistSupply is not a 'playlisting service' or some kind of a "Spotify promotion service", meaning it doesn't have a playlist network of its own and pitch your music to playlists for you. What it does is it helps you create your own list of independent playlists in a ridiculously short amount of time, simplifying the process which normally takes hours. Once you have your long list of playlists and curators' contact info, you should start contacting each playlist yourself to ask for a placement.
In other words, Playlist Supply is not a marketing service but a tool that helps you run your own marketing campaigns with the minimum budget and time.
If you'd rather prefer a playlist promotion service that will do all the work for you, you can check out this post where we listed the best Spotify playlist promotion services.
---
How To Use Playlist Supply?
The tool is super easy to use and there is a 'help tour' above you can access any time if you get confused about a feature.
Using Playlist Supply is straightforward. You type in any keyword you want and get results based on the criteria you selected.
Once you have all the results, you can export the list as a CSV, Excel, or PDF or save it to your playlist database within the platform to monitor it.
Now, let's break down all the features PlaylistSupply offers.
---
Key Features
Keyword Search
You should type in some keywords for the tool to find relevant playlists. Try to search with the keywords associated with your music's genre or mood to find the most relevant ones. I would also suggest you be creative with your searches to get the most results and niche results that are hard to get discovered by many others!
Criteria
After you enter your keywords, you should select criteria for your search results. What kind of playlist information do you want to see in the results? Do you want to see the curator's e-mail or social handles? Searching for "E-mail" criteria is the most effective one, and it is recommended that everyone starts there.
I think all the options complement each other though. I remember many times when I couldn't find the e-mail of the playlist curator and had to contact them through their socials.
Alternatively, you can select the "similar artist" option to see the playlists that feature similar artists. Such a cool feature!
Data Points
Once the results are listed, you will see useful data point columns that show the follower count, track count, the date it was last modified, popularity score, owner name, and contact info of each playlist.
The popularity score is calculated based on the popularity of the artists and songs within a playlist (all artists and songs have a popularity score on Spotify). A playlist with a score close to 100 would feature the biggest artists and close to 0 means it features the lesser-known artists.
Popularity score and last modified features are game-changers as they let you know if contacting a playlist is worth your time or not. New artists, for example, are advised to avoid playlists with high popularity scores. And, if a playlist was updated ages ago, you'd better try your chance with more active playlists than wasting your time with inactive ones.
Export Feature
The tool also allows you to export the playlists you select to an Excel, CSV, or PDF. This feature is incredibly helpful for better organization as you can create your own spreadsheet of playlists. It is suggested that you run multiple searches with different keywords and then combine exports in a single spreadsheet. There, you can filter your results or mark curators you already contacted.
Playlist Directory & Update Function
You can create your own database within the platform by using the "Save to My Playlist Database" button. Once you have your database of playlists, you can monitor the changes in their data points such as follower count or popularity score over time with the update function.
This feature is another game-changer because it allows you to separate organic and quality playlists from the bot or useless ones. For example, if you see playlist followers going from 10 to 3000 the next day, there's likely some scam involved and you'd ideally stay away from that playlist.
Organic Playlist Search
Though this feature was only recently added, I can already see how it will be extremely effective for organic growth. When you select "organic search" and type in an artist's name, the tool goes to the artist's "Discovered On" section and extracts all necessary data.
The power of the "Discovered On" section is indeed incredibly underrated. It shows the playlists that are responsible for a large portion of an artist's streams. These are already high-traffic receiving playlists and one of the best resources for artist discovery.
With this feature, artists can now directly target "Discovered On" playlists and start the music-pitching process with the most effective playlists. This is really an incredible feature that I just can't wait to use in my next release.
---
Playlist Supply Pricing
There are 4 types of membership options on PlaylistSupply. All options come with the standard Playlist Supply Data Tool with which you can search unlimited playlists and curators.
What separates each tier from the other is the level of access you have to the "Organic Playlist Search" feature. The company had to separate the price tag of this feature from the standard tool because it's extremely valuable to artists, music managers, and record labels. While the basic plan doesn't give you any credit to use the feature, you get more credits for organic search with higher tiers.
However, you have to first sign up for the "Basic Tool" to access higher tiers.
Let's briefly break down each tier.
Includes PlaylistSupply Data Tool which gives you unlimited research.
This option includes 0 credits for the "Organic Playlist Search" feature.
$19.99/month
For serious playlist-marketing
Includes PlaylistSupply Data Tool
Includes 25 credits for "Organic Playlist Search"
$24.99/month
PlaylistSupply Viral for Music Industry Professionals
For artists, managers, and those who want to maximize outreach and fully optimize organic playlist search
Includes PlaylistSupply Data Tool
Includes 50 credits for "Organic Playlist Search"
$39.99/month
PlaylistSupply Record Label
For musicians, managers, and record labels reaching out to a significant number of playlist curators for a release. Reserved for those who are putting out huge releases, working with numerous artists, or taking any playlist promotion to the next level.
Includes PlaylistSupply Data Tool
Includes 100 credits for "Organic Playlist Search"
$69.99/month
How Do Playlist Supply Credits Work?
For now, PlaylistSupply credits only apply to the Organic Playlist Search feature. The way the credits work is simple. If a search yields the contact information of 1-5 playlist curators, then one credit is deducted. If the search gives you 5+ playlist curator contacts, then two credits are deducted. For every 5 results you get, you lose one credit.
This system makes sure you get your money's worth and don't waste it on pointless searches like you would with many other playlist promotion services.
---
Pros and Cons
Pros
No genre limitation: When you type in a keyword, the tool searches across all of Spotify. Even if your music is in a niche genre, you can be sure it will find the most relevant playlists for you with the right keywords.
Unlimited searches: Most other playlist promotion services only allow you to reach a limited network of playlists. With PlaylistSupply, you can access an unlimited number of playlists for a very reasonable monthly fee.
Inexpensive: The company keeps the price low to make it affordable for indie artists. While other promotion services charge at least a few hundred dollars for a single campaign, Playlist Supply only has a monthly fee of $19.99. You can also cancel your subscription at any time.
Easy to use: No confusing buttons or overload of features. You can easily find your way around the tool.
Excellent Customer Service: The company is incredibly responsive and supportive. The team is always available for any questions or a demo call. If you wish, they can also screen share and show you the best practices for using the tool to get the most out of it.
Cons
No promotion service: Playlist Supply only provides you with an efficient tool to find playlists and curator contact information. From there, you have to do all the outreach by yourself, which is still time-consuming.
---
Is Playlist Supply Legit?
When it comes to Spotify promotion companies, it is totally understandable why people try to be extra cautious. Scam promotion services dominate the industry and it's hard to separate the legit ones from the scams.
I can say with %100 confidence that Playlist Supply is a legit company with an incredibly passionate team behind it. They are willing to get on a call with you to explain the tool even before you sign up and show you the best practices. They are also eager to guide you through other aspects of playlist promotion outside of the tool and I find it extremely valuable.
What's even more impressive is the company's willingness to take user feedback and improve the tool together. If you share your thoughts with the company on what can be improved, you will likely see some of them executed in the next update.
---
Wrapping Up
Time is the most valuable resource to indie musicians who mostly have a limited budget for music promotion. Playlist Supply provides artists with a revolutionary technological tool that minimizes the time spent on manual playlist research and allows them to spend their time on more significant tasks for a reasonable monthly fee.
If you want to level up your Spotify promotion without paying hundreds of dollars to playlist promotion services, Playlist Supply is your best bet.