Daniel Thrasher is a famous YouTuber with over 2 million subscribers who is most known for his piano-based comedy sketches. He also shares his original compositions with funny lines, which he calls "micro songs".
Besides playing the piano, Daniel Thrasher also sings, composes, and records different sound effects, so he owns a wide variety of gear.
Here's a look at what gear this superstar YouTuber uses in his videos.
What Piano Does Daniel Thrasher Use?
The two pianos Daniel Thrasher uses most are the Yamaha Clavinova CVP-809 and the Nord Grand. While the model seen in the majority of his videos is the CVP-809, he prefers the Nord Grand for the micro-songs videos. Despite their high price tags, both pianos are feature-rich and perfectly blend the best of acoustic and stage pianos.
Yamaha Clavinova CVP-809
From performing to recording songs, Daniel Thrasher can't seem to give up on the Yamaha Clavinova series. His current go-to piano, seen in almost all of his videos after May 2020, is the Yamaha Clavinova CVP-809.
Before acquiring this piano, he'd been using another Clavinova piano, CVP-307. It is from 2004 and is one of the older models lacking some advanced connectivity and technical features, which could be why Thrasher decided to switch to a newer model.
It's not hard to see why Thrasher went for this latest Clavinova piano. The CVP-809 takes the digital piano playing experience to a whole new level as it's so much more than a digital piano. It basically has everything you can look for in a digital piano and even more than that, but it's also the closest you can get to an acoustic piano experience.
It features the latest keyboard action of Yamaha pianos called Grand Touch, which is characterized by incredible responsiveness and expressiveness of keys. This key action blurs the line between an acoustic grand piano and a digital piano.
Its sound library involves thousands of voices including the most prestigious concert grands in the world and accompaniments. There are also advanced features like Chord Looper for improvisation and Follow Lights for learning popular songs.
Despite its high price, if you're looking for a feature-rich digital piano without compromising on the sound quality, touch, and aesthetic of an acoustic piano, Yamaha CVP-809 is currently the best on the market.
Nord Grand
Nord Grand is another piano Daniel Thrasher commonly uses. He uses this piano especially in his micro-songs videos, which are hilarious if you haven't seen them yet!
Nord Grand can be best described as a premium-quality stage keyboard that makes you feel like you're playing a real acoustic grand piano. Nord is a reputable Swedish brand specializing in stage pianos and synthesizers, and the quality of their pianos is still unmatched in the industry.
What makes this model unique among the other Nord pianos is the Kawai hammer action it has. Kawai produces some of the best hammer actions on the market and Nord collaborated with Kawai to incorporate their latest plastic-key action to Nord Grand. This resulted in a stage keyboard that feels and sounds like a real concert grand.
Daniel Thrasher also seems to be impressed by this key action quality. In this Twitter conversation, you can see that he is fanboying over the Kawai key action in Nord Grand.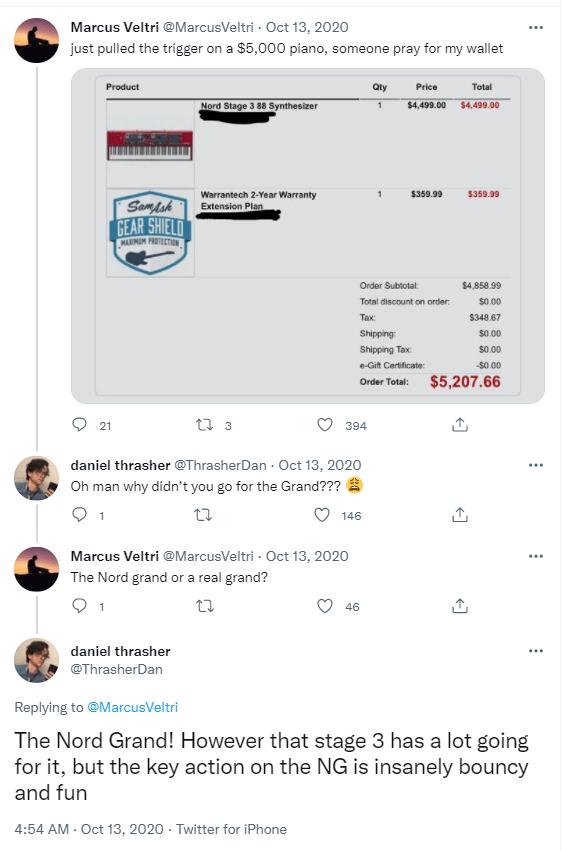 After seeing Daniel Thrasher's pianos of choice, we can come to the conclusion that he values having a real acoustic grand piano experience with the best hammer action and sound.
However, he also doesn't want to compromise on the sound and arranging capabilities of electric pianos. This seems to lean him towards the premium-digital pianos with a wide range of features that also delivers the best acoustic piano feel.
M-Audio Keystation 49
Daniel Thrasher's midi of choice is the M-Audio Keystation 49. However, none of his videos feature him playing this device, so he may be using it solely for arranging purposes backstage.
You can see him holding it at the end of this video.
The model seen in this video is an older version though. There is a newer version of the M-Audio Keystation 49 midi controller which has better key action, more advanced features, and is much lighter, therefore your money would be better spent on this newest model if you're considering buying it.
Daniel Thrasher's Microphones
Daniel Thrasher's preferred microphones are Sennheiser MK4 and Shure SM58. Sennheiser MK4 is a condenser microphone, so he prefers it mostly for recording speech, vocals, and acoustic instruments. He uses Shure SM58 for capturing louder sounds and vocals as it's a dynamic microphone. 
Sennheiser MK4
Sennheiser MK4 is a large-diaphragm condenser microphone that Daniel Thrasher uses quite often for his studio recordings and live streams.
Before switching to this mic, he was using a Samson G-Track USB microphone. He switched to Sennheiser MK4 around the time when he was recording his comedy album, Quick and Sketchy.
He mentioned in one of his videos that Sennheiser MK4 was better for capturing the vocals and speech, which was what Daniel Thrasher needed for his album.
Overall, it's an outstanding-quality microphone best for recording vocals and acoustic instruments. Given its price and quality, it's not hard to see why Sennheiser MK4 is Daniel Thrasher's microphone of choice.
Shure SM58
Another mic Daniel Thrasher often uses is the Shure SM58. If you haven't heard of this mic before, it's an iconic and industry-standard mic that has been around since the 1960s. Shure SM58 has been used by some of the big names like Paul McCartney, Alice Cooper, and many more legends.
Shure SM58 is a dynamic microphone, meaning that it's capable of capturing a wide range of dynamics as opposed to a condenser microphone. It is most praised for its strong durability, clarity, and control of sound.
Being a dynamic microphone, Shure SM58 is best used in live performances and recordings of loud instruments like keyboards, drums, or guitar amplifiers. It's also more of a vocal mic rather than an instrument, and Daniel Thrasher also uses it for vocals.
Here's one of his videos with Shure SM58.
Daniel Thrasher's Headphones –

Sennheiser HD 600
The headphones seen in many of Daniel Trasher's videos are none other than the Sennheiser HD 600. These headphones are best known for their extremely natural, accurate, clear, and crisp sound. This uncolored and neutral sound makes it one of the best reference headphones for mixing and mastering.
Considering that Thrasher mostly takes care of the audio quality of his videos himself, Sennheiser HD 600 must be a great support.
In fact, it's no surprise that Sennheiser HD 600 is Daniel Thrasher's go-to headphones. Since its release over 20 years ago, it has become one of the classics in the industry and the primary choice of both audio engineers and audiophiles.
The only flaw of these headphones is their somewhat outdated and unattractive look. It doesn't seem to be a big issue for Daniel Thrasher though, as he features them in most of his videos.
Whether you want to use them for casual or critical listening, you just can't go wrong with a pair of Sennheiser HD 600.
Daniel Thrasher's Audio Interface –

Audient ID44
Daniel Thrasher has been quite vocal about his love for Audient ID44, a high-quality audio interface best known for its clean and crisp sound. He has also praised it for its easy-to-use and clear layout.
Not only does he use Audient ID44 in his Youtube videos, but he also recorded his comedy album with this interface.
It's one of the best audio interfaces in the market to invest in due to its premium sound quality, an array of unique features, and functional design.
Daniel Thrasher's Studio Monitor –

Yamaha HS8
Studio monitors are essential for high-quality recording, mixing, and mastering as they provide you with the most accurate and flat sound of whatever you are recording.
Studio monitors seem to be an important piece in Daniel Thrasher's studio setup as well – as his videos reveal that he owns a Yamaha H88, an 8-inch powered studio monitor.
It's a really good choice, as Yamaha HS8 it's by far the best studio monitor in its price range, not to mention its outstanding sound and bass quality.
If you have a large studio space and think about buying a studio monitor, I would say Yamaha HS8 is one of the best options. It's the go-to studio monitor of not only Daniel Thrasher but also many music producers, and after listening to some mixes with these monitors, it's not hard to see why.
This monitor provides you with an incredibly flat, clear, and crisp sound that is perfect for producing high-quality and reliable mixes.
Daniel Thrasher's DAW – Apple Logic Pro
Daniel Thrasher uses Apple Logic Pro for sound recording and editing. It's one of the most popular DAWs out there used by both newbies and more experienced musicians.
As with most Apple products, Logic Pro is an intuitive and simple software to use. However, it still has a bit of a learning curve if you want to use it at a more advanced level.
It's one of the most all-around and flexible DAWs out here, and it has everything you need for recording, mixing, mastering, and audio design.
---
Which is the first item on your wish list from Daniel Thrasher's gear? Is there any new gear in his videos that we haven't covered in the post? Let us know in the comments below!