Watching anime about piano might be a great motivation and inspiration for pianists who are also anime fans.
These 6 piano anime with their fantastic stories, characters, and music will give you the boost of encouragement and motivation you need to get back to practicing!
If you are interested in learning anime piano songs afterward, don't forget to check out this list of the 13 best anime piano songs to play.
Top 6 Piano Anime
Forest of Piano (Piano no Mori: The Perfect World of Kai)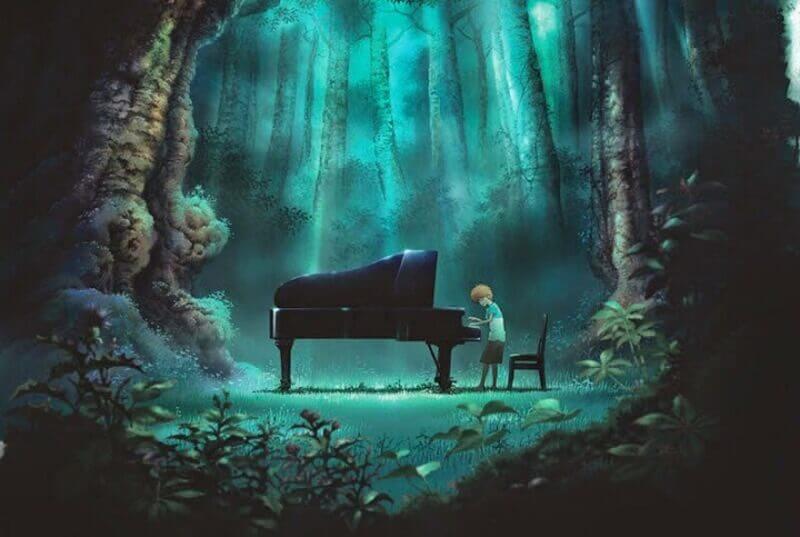 Forest of Piano is about two boys from two entirely different worlds. One of them is Kai, the son of a prostitute, who grew up playing the mysterious and abandoned piano in the forest. The other one is Syuhei, the son of a renowned pianist, who transfers to Kai's school. Unlike Kai who doesn't even know how to read sheet music and plays only by ear, Syuhei received a very strict and formal piano education due to his family background and is determined to become a virtuoso like his father.
Their love for piano is what connects these two grade-schoolers despite their different backgrounds. Their life and music will never be the same after this friendship.
This piano anime features Chopin pieces played by Ashkenazy, which is another good reason to watch it other than its heartwarming story.
Nodame Cantabile
Shinichi Chiaki is a distinguished and perfectionist musician studying at the Momogaoka College of Music, whose ambition is to become a conductor in Europe and play among the European elites. However, his fear of flying prevents him from making this dream come true, therefore he can't leave Japan.
On the contrary, Megumi Noda, or simply called "Nodame", is a piano student in the same college, though she is the opposite of Chiaki. Despite being very talented, she doesn't play from a musical score, neither she cares about hitting the right notes.
As the story unfolds, a love affair starts between the arrogant Chiaki and the free-spirited Nodame. This affair opens many doors in both of their lives.
Your Lie in April (Shigatsu wa Kimi no Uso)
Your Lie in April follows a young piano prodigy, Kosei Arima, who loses his ability to hear the sound of the piano following the death of his mother. After two years of living a monotonous life without the piano, Kosei meets Kaori Miyazono, a young violinist who is free-spirited and colorful.
Kaori will not only remind Kosei of how to enjoy music freely but also how to enjoy life again.
It's one of the most beautiful and heart-breaking piano animes featuring famous classical pieces by Mozart, Bach, and Chopin. A must-watch anime if you enjoy melancholy, romance, classical music, and the piano!
Related: 11 Easy Classical Piano Songs For Beginners
Kids on the Slope (Sakamichi no Apollon)
Kaoru Nishimi, an introverted classical pianist, constantly moves to different cities due to his father's job. Unable to form long-term friendships, he loses his hope of fitting in anywhere until he meets the delinquent Sentarou Kawabuchi, a passionate jazz pianist who is a source of fear for the kids in school.
Sentarou's enthusiasm for jazz deeply inspires Kaoru to immerse himself in the genre. Karou starts to play at jazz sessions in his classmate's family-owned record shop, at which he is joined by Sentarou.
These jazz sessions lead the two to form a close friendship.
Carole and Tuesday
It's been 50 years since the migration began to the new frontier, Mars, and the music scene is now dominated by AI musicians.
There is Carole, living in Alba City, and working a day job. She plays the piano at night to become a musician.
On the other side, there is Tuesday, who lives in Hershell City as the daughter of a wealthy politician. She desperately wants to become a musician as well but feels like nobody around her understands it. She decides to pursue her dream and makes her way into Alba City, where she meets Carole.
After this encounter, these two girls start to make music together and hope to express their feelings through music in the AI-dominated consumerist and unemotional world.
The scenes where Carole plays the piano are adorable in this anime. If you enjoy inspirational stories about music, you don't want to miss this one!
Piano: The Melody of a Young Girl's Heart
Aired in 2002, the story follows Miu, an unconfident, shy, and soft-spoken teenage girl whose one of the greatest joys in life is to play the piano. Miu's increasing shyness and inability to express her emotions in her teenage years not only starts to negatively affect her social life, but also her piano playing.
Miu has a huge crush on Takahashi, though her introversion also stops her from approaching him.
Miu has to discover the music inside her heart to convey her feelings to the world.
Wrapping Up
These were my top recommendations for piano-themed anime.
Did you watch any of them? Which one are you going to watch?
Let me know in the comments!