Looking for the best classical piano books for beginners?
In this list, you will find the best compilations of easy classical piano pieces that will help you expand your repertoire as a beginner piano player.
When I first started taking piano lessons, I would always try to find some other books other than what my teacher was already recommending. Having multiple piano books at hand helped me expand my knowledge of classical music and composers. They were also great resources to improve my technique and repertoire outside of my piano lessons curriculum.
Even if you are following online lessons or Youtube tutorials to learn the piano, you still need to have some collection books and resources to supplement what you learn. Making yourself familiar with new pieces is a great way to practice classical music. The more pieces you learn, the better you get at the classical piano.
Without further do, let's see the best classical piano books for beginners.
Best Physical Books/Collections
This collection includes 21 well known classical piano pieces such as Canon in D, Fur Elise, and Moonlight Sonata. Some of the pieces in this book are originally at the advanced level, but they are arranged for beginner players. This is great since you don't have to practice for years to get the joy of playing difficult but beautiful classical songs like Chopin Nocturnes.
Also, each bar has chord indications, which means you will be able to learn the chords you are playing.
Overall, this book is great for beginners since it includes the most famous classical pieces with very good arrangements!
If you want to get only one book and not to buy any collection books for the next 3 years, then this big collection is a perfect choice for you. After getting this ultimate collection, you shouldn't need any other classical repertoire book as a beginner.
This huge collection includes all the well-known easy classical pieces as well as other unknown pieces. By learning the less popular classical pieces in this book, you will be able to stand out from the crowd.
Overall, I highly recommend this book if you want to have one ultimate collection that you can always use for your practices.
This book is another must-have for beginners because it introduces you to the most famous classical songs without being overwhelming. This book does not only contain piano songs but many other famous symphonies. By having this book, you will get to know a lot of classics by playing their main themes, which is great to increase your repertoire and knowledge of classical music.
I guess any beginner can enjoy this easy classical themes collection since the arrangements and the song selections are amazing!
Best Digital Collections
You may prefer to have digital sheet music instead of physical copies, so I wanted to include also some digital collections since they are as good as the physical ones.
Very Easy Collection for Beginners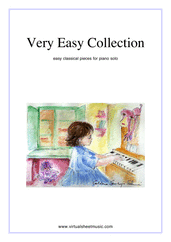 This is my favorite easy piano collection on the internet! It includes all the songs that a beginner classical piano player should learn. The arrangements are very beginner-friendly plus the design of the whole book is very pleasing. I think every beginner should first go through the songs on this amazing collection before moving further.
This collection has 2 volumes, so don't forget to check the second part also to get the most benefit out of this digital book.
10 Classical Pieces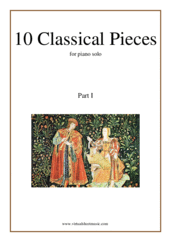 Another very good collection for beginners. This one includes the easy piano arrangements of some beautiful symphonies such as The Waltz of The Flowers by Tchaikovsky in addition to solo classical pieces by well-known composers. This collection is also from Virtual Sheet Music and the quality of their sheet music is always amazing.
Again, I recommend getting this collection together with the second part.
CONCLUSION
This was the list of the best classical piano sheet music books for beginners!
I shared my top books for beginner players who want to play classical music. Beginners should learn as many songs as possible to see quicker results.
No matter which one you choose, all of these books will help you improve your playing and expand your knowledge of classical piano.
I hope you enjoyed my list!
By the way, which collection did you like most?
Let me know in the comments section below!