Whether you're a guitarist, have yet to become one, or just someone interested in guitars, you've come to the right place as we're listing the 8 best anime about guitar today!
Guitar has not only inspired the rock musicians, but also several musical anime. If you're taking a break from your guitar practice or rehearsal, these anime series can motivate and inspire you while your fingers are resting.
The great thing is that it doesn't matter if your favorite musical genre is rock 'n' roll, pop, or heavy metal. From electric to acoustic guitars, each of these anime below features different kinds of guitars and styles.
Here are the best guitar anime you're guaranteed to love if you are a guitar enthusiast!
K-On!
K-On! is fantastic anime that follows the journey of high school girls in a music club, and how they hone their musical talent along the way.
Yui Hirasawa joins the "Light Music Club" in her high school without having any musical skill after seeing an advertisement poster, assuming they would only play simple instruments. Yui soon realizes that it's not a club for beginners and hesitantly enters the clubroom to apologize and leave.
However, she is surprisingly welcomed by the members of the club. The group, facing disbandment for the absence of members, convinces Yui to stay despite her lack of musical knowledge. For the group to be able to perform in their upcoming debut in time, Yui now has to learn the guitar while trying to keep up with all the school work.
Beck: Mongolian Chop Squad
Beck follows a group of friends from high school who form a rock band and rise to fame. For Yukio "Koyuki" Tanaka, a 14-year old boy who leads a dispirited and aimless life before meeting a rock 'n' roll guitarist and becoming a rock star by chance, nothing will ever be the same.
As the group achieves worldwide success, the group members have to deal with different types of struggles.
Ryusuke Minami's Gibson Les Paul guitar has a central and special role in the story, which might be exciting for guitarist anime fans!
Detroit Metal City
This incredibly funny anime is about a shy and soft-spoken boy who has to perform with a death metal band "Detroit Metal City" as the lead singer and guitarist to make ends meet. While the band's dedicated and fanatic fans celebrate his demonic, dark, and extravagant style, he secretly enjoys Swedish pop and dreams of becoming a pop star.
Featuring death metal, pop music, comedy, guitars while parodying the stereotypes about metal music, this anime has it all!
Given
Given is about two high-schoolers, one of which ends up teaching how to play the guitar to the other after a chance encounter. They then start to play in the same band, and the two start to have feelings for each other.
As the band prepares for their first music festival, the other members of the band also start to develop romantic relationships, which makes things more complicated.
This anime features Gibson guitars, gay romance, rock music spiced up with a heartbreakingly emotional and funny plot. Not to mention that I'm obsessed with its soundtrack!
White Album 2
Haruki Kitahara is the last member of the Light Music Club, which is about to dissolve due to the lack of any members. Haruki, having dreamed of performing at school's festival for 2 years, sadly faces the reality that he will not be able to realize his dream, and there is only one semester left until his graduation.
As he sits by the window alone and starts playing the song White Album on his guitar without a trace of hope, the sound of his lonely guitar is joined by an otherworldly voice and a stunning piano melody. The joining of these pianist and vocalist girls will save the club and the performance that Haruki dreamed of all his school years, yet all of a sudden he will find himself in the middle of a love triangle.
Related: 6 Anime About Piano That Will Inspire You
What initially looks like a basic love triangle in teen novels, gradually builds depth and complexity, so I highly recommend watching it!
Nana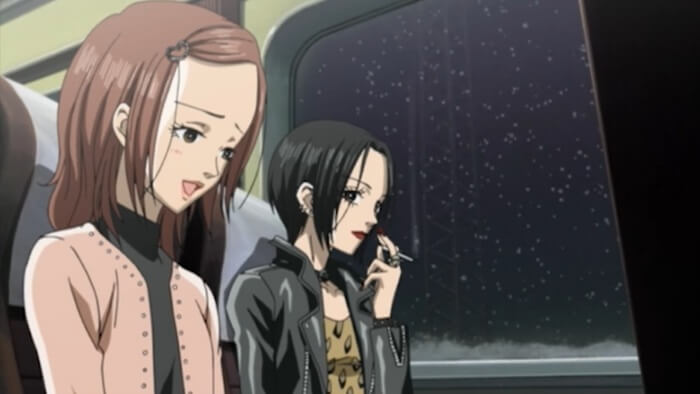 A must-watch music anime about a rock band, it follows two girls named Nana, who meet by chance on a train heading to Tokyo.
While Nana Komatsu is chasing her boyfriend who has gotten into art school, Nana Osaki is planning to become a professional punk singer. This encounter eventually leads them to share an apartment in Tokyo, through which the girls form a close friendship.
Their bond will be challenged by a series of events related to romance, heartbreaks, and music.
This anime is filled with fantastic guitar-heavy punk and rock tracks, as well as hilarious inside jokes.
Show by Rock
Cyan Hijirikawa, a high-school student with exceptional guitar skills and musical talent, is too shy and lacks the confidence to join the music club in school.
One night, while playing her favorite rhythm game on her cellphone, Cyan finds herself in the middle of an unknown world called Midi City. There, she finds out that who controls music controls everything. She is now faced with a challenge to defeat the evil musical monsters to save the city from the hands of the dark powers, but she first has to unlock her inner magical power with her guitar.
Although not everyone likes it, I actually find this guitar anime quite fun, also its visuals are really cute and adorable. The great thing is that it has only 12 episodes, so I highly recommend giving it a try if a guitar and rock music-focused anime with a short and sweet story sounds enjoyable to you!
Legend of Black Heaven
This anime series follows Oji Tanaka, leading an ordinary life in Tokyo as an office worker with a child and wife. But, his life wasn't always dull like this, especially 15 years ago, when he was the lead guitarist of the short-lived yet influential heavy metal band named Black Heaven.
Through an encounter with a beautiful and mysterious woman, all of a sudden he will pick up his guitar again, though this time not for rock 'n' rolling, but to for an important mission to save outer space.