Looking for the best sheet music subscription service?
If you constantly need to get new sheet music like me, purchasing every single piece of sheet music may challenge your budget. While it might feel like subscribing to a sheet music website will cost a lot of money due to regular payments, it actually saves both money and time in the long run.
For example, I'm a member of Virtual Sheet Music that costs me $37.75 per year.
Considering the fact that sheet music I purchase online is $5 on average, I can take the annual subscription fee back by getting only 8 sheet music a year, which is really awesome. I definitely need much more than 8 sheet music a year because I play the piano in a couple of bands and also try to learn new songs on the side for other events, so it is apparent that a subscription saves me a considerable amount of money.
It also saves me time, because I don't have to go and try to find the best deal for a single piece of sheet music on the internet. Of course, I sometimes need sheet music for songs that are not available on the subscription services, but it doesn't change the fact that subscription services provide significant convenience and a budget-friendly option for musicians and teachers.
Below, I listed the 3 best sheet music subscription services you can find online. I hope you will find at least one that suits your needs.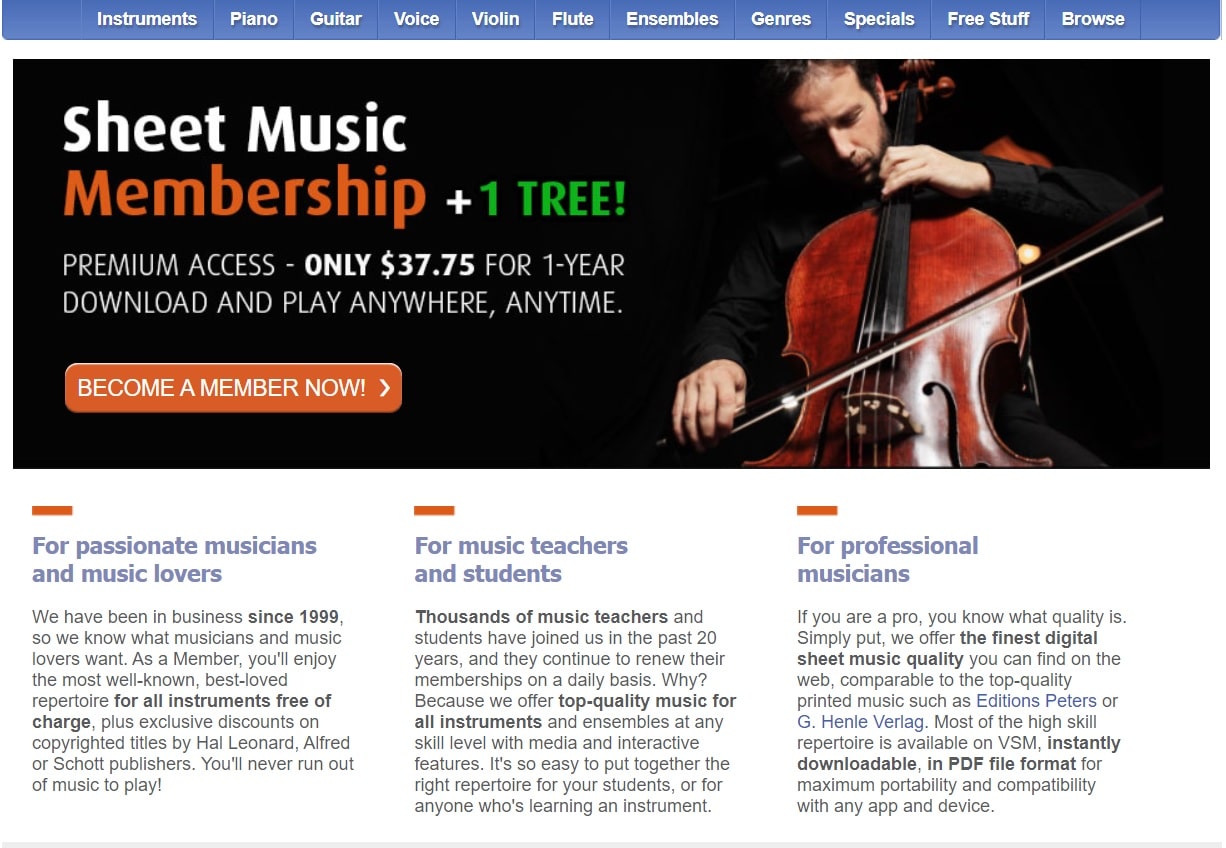 Virtual Sheet Music has probably the best online sheet music subscription service you can find on the internet. It has a huge library of scores from a lot of different genres such as classical, pop, rock, jazz, contemporary, gospel, and even hip-hop!
The site also provides scores for a wide variety of instruments and voice types, all of which you can see here on this list.
The annual membership price is $37.75 for the first year, and the renewal is not automatic. After the second year, you have the option to renew for only $25.99.
The system is really user-friendly, so I can say it's incredibly easy to find what you're looking for and download it.
You will find 4 music publishers inside the platform: Alfred, Hal Leonard, Schott Music, and Virtual Sheet Music. They are the leading music publishers in the industry, which means all of the sheet music you find on the VSM website will be very high-quality.
All sheet music comes with a PDF file and interactive sheet music. Plus, the ones that are original VSM publishments come with an MP3, MIDI, and a related-video in addition.
Let's take a look at my other favorite things about being a Virtual Sheet Music member.
Almost all of the classical sheet music is free with the membership: I think this is one of the most important factors that set the VSM apart from other online sheet music platforms. Most of the high-quality sheet music providers will still require you to pay for the score even after you subscribe, despite lowering the price a bit.
Virtual Sheet Music is really awesome because almost all of the classical music scores are VSM original arrangements, which they offer for free to their members.
While sheet music from other genres is not free with the membership, VSM reduces the original price by up to 70%. It's a really good deal because other similar services reduce the original price by a maximum of 50% while having a more expensive annual subscription fee.
Piano Accompaniment Videos: This is a really amazing feature for musicians who need piano accompaniments to practice and perform.
Simply, you download a video where the pianist plays the piano accompaniment for the piece. At the bottom, you see the notes for a solo instrument that follows the accompaniment simultaneously.
You can see how this feature works with a free demo.
Cover Art: Well, this is not really about the functionality of the website but I think it greatly improves the user experience 😄
Original VSM sheet music has really aesthetic and beautiful cover pictures that I really enjoy. I think it's a simple but nice detail because none of the other sheet music websites has this sweet feature.
If you are teaching kids, I guess it would be a nice thing to keep them focused and motivated.
See Everything Included in Virtual Sheet Music Membership
MusicNotes is another amazing online sheet music subscription service that a lot of musicians and teachers use. It also has a really big and comprehensive sheet music library that contains over 400.000 sheet music arrangements.
The sheet music you get here is of very high quality and comes with an interactive copy, which you can see and play with MusicNotes free apps.
It has 2 membership options: Standard and Plus.
The most significant difference between the two options is the PDF download feature.
Normally, when you purchase sheet music on the MusicNotes site you only get the option to print it. For getting the downloadable PDF version, you need to pay an extra $2, which significantly raises the price. Standard Membership doesn't provide a free PDF option, which means you still need to pay the additional $2 every time you need a PDF to the score.
Having a Plus membership allows you to have the PDF download for free though, which makes the Plus membership a way better option I think.
However, it should be mentioned that, unlike VSM Membership, none of the MusicNotes membership options significantly reduces the price of your purchases. The maximum discount you get is %15 per sheet music purchase, which is included in Plus Membership.
Overall, I think MusicNotes is also a fantastic subscription service, though it is a bit overpriced.
While I enjoy most features on the platform, my favorite thing about MusicNotes is their Signature Artist section.
This is a part of the catalog where prominent Youtube artists offer their original sheet music arrangements for the songs they play. For example, you can get the piano arrangements by amazing artists such as Rousseau or vkgoeswild due to the partnership between MusicNotes and the Youtube artists.
Related: 7 Best Youtube Channels to Learn Piano
See Everything Included in MusicNotes Membership
I wanted to put 8Notes on this list because it is the most budget-friendly option. You might be a piano teacher at the beginning of your career or a self-teaching student, which means you might not have found the first two options affordable.
8Notes also has a big library, though it's not as big as VSM or MusicNotes. Still, you can find a decent amount of classical, jazz, rock, pop, and world sheet music there along with an interactive player.
While there are a lot of features on the site that are available for free, important ones such as getting high-quality PDF files and an unlimited download option are only available with a subscription.
Related: Top 7 Sites to Get Free Piano Sheet Music
The annual subscription is $20, and it's the only money you pay within a year. Once you subscribe, you can reap all the benefits of the site. You can download any sheet music for free as a PDF file, play the piece with an interactive player, have the MP3 and MIDI file, and other instrumental sections. Plus, you get access to hundreds of subscriber-only content like instrument and music theory lessons.
See Everything Included in 8Notes Membership
Conclusion
Subscribing to the sheet music services both saves money and time, especially for music teachers and musicians who constantly need to print out new sheet music. I hope this list will help you choose the subscription service you need.
Which one of these do you think is the best sheet music subscription service? Which one will you subscribe to?
Let me know in the comments!