This post is all about the best SubmitHub alternatives for marketing your music.
If you're an indie artist, curator, label, or music blogger, the chances are high that you've heard of SubmitHub or even used it. Since its founding in 2015, SubmitHub has grown into the most famous and accessible music promotion service.
However, its increasing popularity has started to turn many artists and curators to look for other alternative platforms. One of the reasons is that there is an insane number of submissions made to curators every day. This fierce competition within the platform leads to significantly low acceptance rates.
If you've also had your share of rejections like me despite submitting with premium credits, I hear you!
Indeed, even if you've had good results with SubmitHub, diversifying your marketing initiatives is vital to get your music heard by larger audiences. For instance, for my next release, even though I'd continue to use SubmitHub to promote it, I'd still utilize the other services on this list to have more effective and targeted results.
In fact, recently, I turned all my promotion efforts entirely to Spotify playlists through using PlaylistStreams, but more on that later.
Now, without further ado, let's look at the best SubmitHub alternatives suitable for different budgets and needs.
These websites are not only perfect for artists but also curators, influencers, or labels who'd like to expand their overall presence across different platforms.
At a glance:
---
PlaylistStreams

– Best for Gaining Organic Spotify Streams
Although blogs and radio stations are powerful tools for marketing your music, I personally believe none of them can beat the power of getting your song on an impactful Spotify playlist. The reason is that today, most people use Spotify playlists to discover new music rather than blogs or other media, including myself.
Even when I was promoting my first single through SubmitHub, I did 99% of my submissions to Spotify playlists in my genre and only a tiny percentage to blogs.
My primary focus was organically growing on Spotify, and getting my track on impactful playlists with real followers was the best way to accomplish this. However, SubmitHub fell somewhat short of my growth expectation on Spotify. This is where I thought of switching to a company specialized in Spotify playlist promotion rather than SubmitHub, and it was the best decision ever.
If your main goal is also getting more people to discover you on Spotify, then PlaylistStreams is a fantastic alternative to Submithub.
PlaylistStreams works differently than SubmitHub in several aspects. First, you don't choose which curator you're going to submit your song to as PlaylistStreams does this for you. They have a playlist network of 1700+ curators across various genres. Based on the style of your track, they pitch it to relevant and active playlists.
This hand-held approach significantly saves you time and energy as you don't need to spend time searching for curators. Nor do you need to make hundreds of submissions only to get rejected by most at the end.
The biggest problem with playlist promotion is that the market is full of scam companies (I've had my share of them). In fact, it's pretty rare to find a legit Spotify service like PlaylistStreams that focuses on organic Spotify promotion, which is the single most important thing to gain real fans and listeners.
If you'd like to learn more about this service, you can check out my full review of PlaylistStreams based on my experience with them.
Pricing:
The cheapest PlaylistStreams package costs $199, and the most expensive one goes all the way up to $1299, so the cost is relatively higher than SubmitHub. However, considering the benefits it will provide to your music career, I genuinely believe it's totally worth the investment.
---
Groover – Best for Reaching European Audiences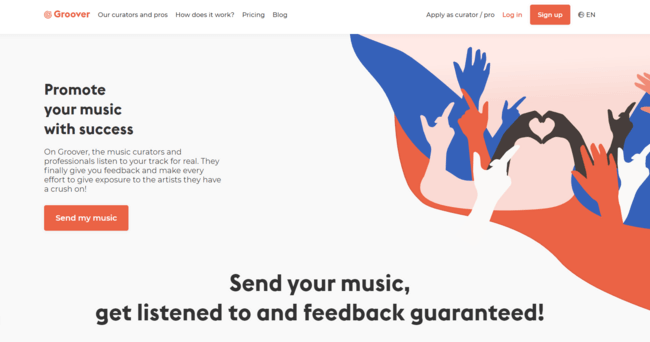 Directly inspired by SubmitHub's model, Groover is a platform that connects artists with media, labels, curators, radios, influencers, and agencies. It's fair to say that Groover is pretty much the same as SubmitHub, despite a few differences that are worth mentioning before deciding if it's the right fit for you.
Firstly, Groover is based in France, hence primarily focused on the French market. Their contacts are mainly in the countries like France, Belgium, Canada, so Groover is a great option for artists based in Europe or who want to target these countries. However, Groover is quickly becoming more international with new influencers from Italy, England, Brazil, and many other countries joining the platform every day.
Furthermore, in Submithub, it's pretty common to receive negative or useless feedback due to the insane amount of submissions each influencer gets every day. Even if your song doesn't get accepted, influencers on Groove mostly try to give constructive and quality feedback.
Overall, Groove is a solid alternative to SubmitHub if you're eager to expand your reach in a different market and explore more opportunities to get discovered.
Pricing:
The cost per submission is €2, which is somewhat more expensive than SubmitHub. (In SubmitHub, you have 2 free credits for every 4 hours or could choose to submit your track with premium credits for either $1, $2, or $3.) Groover argues that keeping the submission cost higher helps artists more carefully pick who they contact, which results in a better approval rate.
Once you submit your track, the curator has 7 days to give feedback. If you don't receive any response within those 7 days, you get your €2 back, which you can spend again on the platform for contacting other influencers.
There is a special discount on Groover for Wandering Tunes readers! Use the promo code WANDERINGROOV to get 10% off on your campaign.
---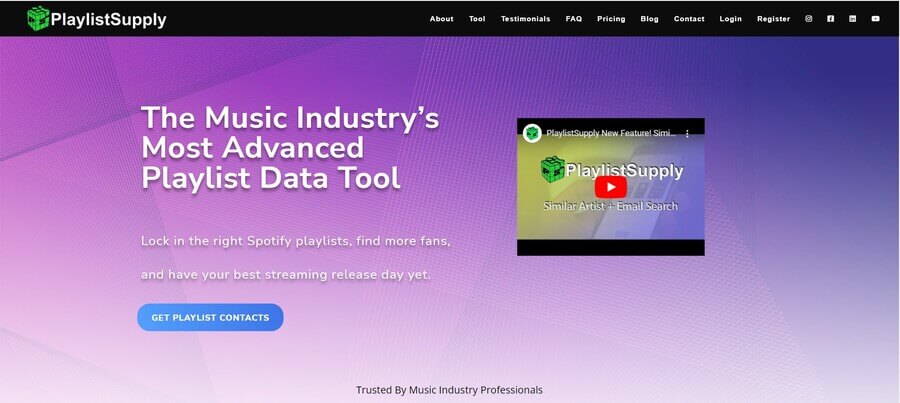 PlaylistSupply is an incredible tool for those looking to leverage their Spotify performance. PlaylistSupply solely focuses on Spotify playlist promotion, so unlike SubmitHub, it doesn't include blogs, radios, or labels.
It's also different than most Spotify promotion services, as it doesn't let you submit your tracks to playlists directly. Instead, it provides you with the most relevant playlists based on the keywords you enter and the contact details of curators in just a matter of seconds. This contact information might be the curator's e-mail, social media handles, or the submission link for the playlist.
Other than curator contact information, the tool also shows the playlist's follower and track count, the popularity score, and the last modification date. Seeing these data prevents you from wasting time with useless playlists and instead helps to focus your efforts on effective ones.
Whether you're an indie artist with no budget or a big record label, PlaylistSupply is a powerful tool that can take any playlist promotion to the next level. There are more than 4 billion user-curated playlists on Spotify and only a minority use platforms like SubmitHub to accept tracks. The rest of them are reachable only through e-mail or social media. Thanks to its automated tool, Playlist Supply provides you with all the means to reach those playlists in just seconds and saves you tons of time.
Pricing:
$19.99/month.
---
MusoSoup – Best for Curators
MusoSoup is another good alternative to SubmitHub as it helps artists more effectively market their music while ensuring the sustainability of curators at the same time. Similar to SubmitHub, MusoSoup connects artists with different media outlets such as blogs, radio, Spotify playlists, and Youtube channels.
What makes MusoSoup different is that your track will get reviewed by the MusoSoup team before it's sent to the curators, which greatly benefits both sides.
If your song isn't approved, it means that MusoSoup thinks it'll not perform well in promotion, saving you money and time. From the curator's standpoint, this system frees you from the hustle of going through countless amounts of amateur tracks that are not worth your promotion efforts.
Each campaign lasts for 45 days, during which curators interested in your track will approach you with offers on different types of coverage they can give for your release. Some of these offers may include additional costs depending on the type of coverage, whether it be a full review of a reputable publication or an interview.
If no curator contacts you within 45 days, the company provides you with a free coupon for future use.
Pricing:
There is a one-time payment of £24 if your song is approved. (Unlike Submithub where you do one-off payments for each submission) You don't pay anything if the track doesn't pass the review process.
---
If you've run out of all your premium credits on SubmitHub and looking for free alternatives, then you should definitely check out Daily Playlists. It's a free service that allows you to submit your song to multiple playlists within a matter of seconds.
Even if you decide to pay for the other services on this list, I'd still strongly advise you to use Daily Playlists as well because it's easy, free, and quick to use.
The whole process is pretty simple. You enter the Spotify link to your song, then choose the playlists you want your track to submit to. The playlists can be filtered by genre, which significantly eases the process.
From the dashboard, you can see which playlists have approved or declined your track. Even though the submission process is super quick, from my own experience, the time to hear from each playlist is longer than most other services on this list and SubmitHub.
Still, it's one of the best alternatives to SubmitHub to expand your Spotify presence for free in an easy and quick way.
Pricing:
It's free!
---
As you explore the best SubmitHub alternatives to enhance your music marketing efforts, there's an additional service that deserves your attention. In addition to the platforms mentioned above, I'd like to introduce you to SoundCampaign.
SoundCampaign goes beyond traditional music promotion methods and offers an all-around solution to boost your music career. With SoundCampaign, you gain access to a vast range of awesome music curators from all the genres you can imagine.
SoundCampaign also provides a bonus option to amplify your marketing strategies and maximize your chances of success with its recent addition, Tiktok Music Promotion. Harnessing the power of TikTok's massive user base and viral potential, SoundCampaign helps you reach new audiences and generate buzz for your music by connecting you with it.