What if you dream of playing the piano but have no financial means for it? Does it mean that you have to give up your dream? Or is it actually possible to learn piano online for free?
Undoubtedly, online services provide the most convenient and flexible learning experience. However, beginner pianists may not be certain if they will commit to learning piano in the long run, and would be better off first trying their hands at the piano with free services to see if they like it.
Also, there are many people who can afford neither online courses nor traditional lessons but strongly wish to learn the piano.
Although there are dozens of online piano learning courses, apps, and lessons today, I'm aware that it's hard to find one that doesn't charge for its service.
Luckily, after a 2-days-long digging on the internet, I've found some solid ways to learn piano online for free!
However, keep in mind most of these methods will require self-discipline and self-planning, because they are not structured and organized as paid services, so you have to monitor your own progress.
Still, I think they are definitely worth trying if you are a first-time pianist!
Try it now with a 7-day free trial
Youtube Channels
You probably already know that Youtube is one of the greatest resources to learn piano for free.
However, the abundance of piano learning channels on Youtube may leave you confused about which channels you should be following as a beginner.
In addition to the issue of abundance, most Youtube piano channels don't provide you with an organized learning plan which starts from scratch and goes to higher levels step by step.
After thorough research, I've found two channels that I think have successfully managed to overcome the lack-of-structure problem most Youtube channels have.
I'll never get tired of sharing this excellent channel run by piano teacher Allysia Van Betuw. It offers some of the most high-quality and structured free piano lessons on Youtube.
Piano TV is mostly dedicated to teaching how to play classical and popular music. It follows the RCM approach, an international standard of piano teaching and examination, so there is a perfect organization of lessons on the channel.
The different levels of the RCM system are classified into separate playlists.
The levels start with the playlist named "Preparatory/Beginner", and continues with the "Grade 1 RCM/ABRSM". Piano TV covers the RCM curriculum until Grade 6, but it should be noted that after Grade 4, the lessons are fewer and less structured.
However, there is no need to worry about this if you are a complete beginner because the first four grades are covered in great detail and organization. If you follow the videos right from the beginning without skipping until Grade 4, you'll be absolutely fine because you will have already reached the intermediate level.
And, if you don't have any idea when I talk about "grades", Alyssia has tons of videos explaining each grading and teaching standard she follows.
You'll also find various other educational videos on music theory, classical composers, different exercises, and practice tips on the channel which I found very helpful to keep learners motivated and supplement them.
My favorite series of videos on this channel is the piano tutorials. Alyssia teaches both beginner and advanced classical pieces with long in-depth tutorials. They are not in the form of Synthesia tutorials with lighted keys. Instead, Alyssia starts with providing background information about each piece and explains everything you need to know before starting to learn the piece like the key signature, fingerings, and rhythm.
She then takes you through the piece step by step, demonstrating the correct articulations, hand positions, and fingerings required for each measure.
Overall, PianoTv is teaching how to play the piano with a heavy focus on classical, and a slight focus on pop music. What distinguishes this channel is that, unlike most tutorial-based piano channels, it doesn't skip the fundamentals of piano playing like music theory, reading notes, and technique.
There are a lot of apps and channels out there that offer "easy tutorials" which only display a virtual keyboard with notes falling to keys for you to imitate those in your own piano. I guess following that kind of approach is fine if you are playing the piano for fun.
I'm also aware that as a beginner pianist, it's really tempting to skip the theory and technique, and directly get to that "fun part".
However, beginners who wish to take their learning seriously and learn more advanced pieces in the future should first acquire a solid technique and music theory knowledge, and PianoTv can support you with these aspects for free.
It's truly a valuable free online resource to learn the piano if you're interested in classical music. I highly recommend checking it out!
This is another great Youtube channel for learning how to play the piano for beginners, although it has a wide variety of videos on different topics that intermediate players could also benefit from.
Along with beginner piano lessons, the channel is mostly dedicated to teaching improvisation, jazz-blues-rock-pop piano, songwriting, chords, and music theory.
The free piano lessons which you should follow as a beginner can be found in the playlist called "How to Play Piano for Beginners". I admire this series so much because it is perfectly structured and organized.
Another great thing about this series is that it assumes you have absolutely no prior knowledge of how to play the piano, therefore it starts with the most basic topics like familiarizing you with the piano keyboard and teaching the naming of notes.
There are also free PDF resources available for each particular lesson which you can download through the links in the description part of the videos. They are meant to supplement the video lessons and therefore are very helpful.
Although this channel is heavily focused on teaching jazz, blues, rock, and pop music, the series I mentioned above is suitable for any beginner regardless of the genre they intend to play later on. Completing the series, you'll have acquired the core concepts in piano playing which will be necessary for playing all kinds of music.
The lessons last around 15-20 minutes. Bill also takes the time to explain all the concepts in detail and shows everything slowly and repeatedly.
I suggest that you also take the time to practice what you learn in each video at least for a couple of days instead of immediately moving on to the next.
If you like the idea of learning piano from Youtube with free video lessons like these, then you might also want to check out my other post on 7 Best Youtube Channels to Learn Piano.
Free Piano Learning Websites
While video tutorials work better for some people, some may prefer learning the piano through a well-designed website.
Below, I've gathered the 4 best free piano learning websites that serve as viable alternatives to paid sites with their high-quality lessons and well-organized curriculums.
Among the several piano learning websites that I've tried in years, PianoNannys has always been one of my favorites.
This award-winning website dates back to 1994. The website has established a good reputation throughout the years with overwhelmingly positive feedback from its students.
There are three main sections based on difficulty levels: starter studies, intermediate studies, and advanced studies. Each section contains around 9-13 lessons, and the completion of each one should take about 35 minutes. However, you can complete the lessons at your own pace because they are always available.
The lessons blend text, visuals, and audio files to explain each topic. There are also quizzes below some of the lessons through which you can monitor your progress and revise the material.
The beginner and intermediate studies solely focus on teaching reading music and basic music theory concepts. The course doesn't teach you how to play songs until the very last lessons of intermediate studies. While learning music theory concepts first is definitely essential for playing the piano, the lack of songs to practice in the early phases may demotivate some beginners.
However, I don't think it should be a reason to ignore this valuable free course. It's just to say that it could be a more motivating and satisfying learning experience if you start to learn some beginner piano songs alongside the lessons. That would also be helpful to apply what you learn to your practice.
This post may help you choose your practice songs if you don't know where to start:
You can also check out my beginner piano song recommendations for both children and adults:
The advanced studies are intended for jazz learners as those cover improvisation techniques, jazz-blues scales, and chord progressions. The beginner and intermediate studies are intended for learners of any genre though as they teach you the basic concepts of piano playing.
All in all, PianoNanny's curriculum may not be the most comprehensive one, but its heavy focus on music theory makes it an outstanding free piano learning website for beginners who wish to build solid musical foundations.
Chances are you've already come across Pianote tutorials on Youtube. The immensely popular piano learning channel, however, has also various services outside Youtube including this free online library of piano lessons.
Pianote has a paid piano learning course too, but pianolessons.com is completely free plus the lessons are provided by the same Pianote instructors.
From music theory to proper piano technique, there are a great variety of lessons on the website. They are also well-organized in that all lessons are grouped into different categories such as piano theory, counting, piano scales, songs, piano modes, and improvisational skills.
Unlike PianoNanny, I noticed that this site doesn't give you an exact route to follow except the "getting started" lessons. While the lessons are grouped, it's not so clear in which order you should take lessons. I suggest that you take the time to explore the lessons to identify which lessons would be best to start with based on your level.
I think the categorization of the lessons may be helpful for beginners, especially for those wishing to learn specific skills and concepts. I found it very convenient to search for the topics I wish to learn, so the site is actually quite easy to navigate.
Pianolessons.com mostly utilizes Youtube videos, explanatory notes, and free PDF resources. The informational visuals are occasionally incorporated to demonstrate certain hand positions and theory concepts.
The songs being taught are mostly popular in style with little focus on classical repertoire. However, classical players can still benefit from the other educational content on the website as the lessons aim to build a solid foundation for piano playing.
Run by the enthusiastic piano teacher Lisa, PianoVideoLessons is another fantastic free piano learning website that I cannot recommend enough.
Lisa has a long experience teaching piano to adults. After many years of observing different types of learners, she created the site to fit everybody's needs.
The site offers 2 courses. "The Free Piano Lessons" are aimed at independent learners who don't mind learning by themselves and wish to go at their own pace. "The Guided, Interactive Online Piano Class", however, better suits the learners who struggle to learn alone, therefore, need extra guidance, interaction, and motivation throughout their learning. The latter is a paid course though so I will not review that on this post.
The main curriculum consists of 9 units, with each unit containing around 15 lessons. It is probably the most comprehensive and well-organized piano learning website that guides the learners from the very beginning step by step. The site makes sure that beginners learn everything they need to know before moving on to the next lesson.
There is equal emphasis on all the aspects of piano playing including music theory, ear training, technique, and learning to play songs. Another great feature of the website is that the lessons are in-depth but the concepts are also clearly explained to make it easy for beginners to understand.
The lessons are delivered in the format of videos and texts. There is also a PDF book available to accompany each unit, but those books are not free. However, purchasing the books isn't compulsory so you can get them if you think it would be better to have them during lessons after exploring the curriculum first.
Unlike PianoNanny or Pianolessons.com, this site is focused solely on teaching classical pieces. Some of the pieces in the curriculum include ones like Fur Elise and Canon in D, so beginner players who intend to learn classical repertoire shouldn't miss this fantastic free learning resource.
Zebra Keys is another free website that offers over 50 piano lessons with varying difficulty levels, which are preparation, beginner, intermediate and advanced.
Each level is also divided into sections of music theory, chords, improvisation, and technique, and each section contains a few lessons. This makes the site suitable for anyone from beginner to advanced seeking to learn specific concepts.
The lessons are mostly taught in the form of texts with accompanying animations to make the concepts clear. Therefore, if you learn better through videos, you might not find this website efficient for your learning as the videos are rarely utilized.
You also need to make sure that the latest flash plugin is installed to view the animations.
From improvisation to music theory, Zebra Keys teaches a little bit of everything, but none of the topics are covered in great detail. This feature makes Zebra Keys best suited for the ones who wish to get a quick introduction to playing the piano.
Moreover, relying solely on the texts and animation in some cases may cause the beginners to acquire the wrong technique as there are mostly no videos to demonstrate the hand positions or posture.
Therefore, beginners who intend to follow Zebra Keys for their education may consider supporting themselves with some extra videos on piano technique from other sources when they get confused about the fingerings and positions.
In the resources section, you will find some great resources to supplement your learning such as the free sheet music library with 35 songs and ear-training exercises.
Related: Top 7 Sites to Get Free Piano Sheet Music
One thing to note is that the site might not be the most aesthetic-looking and convenient website you have come across. Still, I would consider checking it out as it's still might be a useful resource if you're looking for free ways to learn piano.
Udemy Free Piano Courses
If you're asking where to learn piano online for free, it would be a huge mistake to skip Udemy assuming it only has paid courses.
The best thing about this amazing e-learning platform is that some instructors offer their courses for free, so I believe there is probably no skill you can't learn from Udemy as there is something for everyone from any financial background.
By enrolling in free Udemy piano courses you can learn with a much more structured plan with experienced instructors.
With the overwhelmingly positive feedback it receives, this course is among the most popular piano courses on the platform.
As its name suggests, the course aimed at absolute beginners who have no prior knowledge of the basics of piano such as music staff, notes on the keyboard, and basic chords. If you already know how to read notes or can identify the notes on the keyboard, I suggest that you skip this course as it intends to teach the basics from scratch.
The course content starts with introducing you to the keyboard layout by teaching everything you need to know about the white and black notes on a keyboard. Then it proceeds with lessons on reading notes through the staff with two different clefs.
The course ends with teaching the basic scales and chords, and there are no further lessons teaching how to play songs.
However, I still encourage absolute beginners to take this valuable free introductory course as the lessons are not overwhelming. By the end of the course, you will know all the basics of piano which will build the foundational knowledge for understanding more advanced concepts and learning songs later.
Learn Piano in 45 Days is a comprehensive piano course that aims to teach piano basics through a well-rounded approach.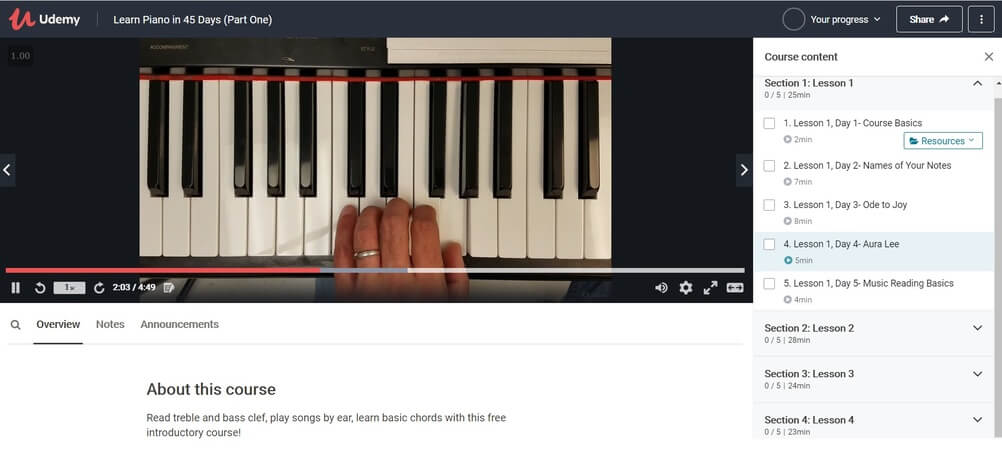 Unlike most beginner courses that only focus on a single concept such as chords, playing by ear, or reading notes, this course incorporates all these elements without excluding any approach. This way, beginners can see which method suits them best. By the end of the course, you will know if playing by ear, reading notes or playing chords is the best learning way for you.
Other than lessons on reading music, time signatures, and basic chords, the course also teaches a few beginner songs.
This course is another great one for a quick introduction to the piano basics in 7 days.
If you follow the curriculum and practice every day what you learn in the lessons, you will be able to start learning Beethoven's Ode to Joy on the 7th day.
The instructor is an acclaimed teacher and pianist, Michelle Huang, and her teaching style is highly praised by students all over the world. Her solid background as a classical pianist ensures that you will acquire a strong foundation.
Unlike the other free Udemy piano courses above, this course starts with teaching the proper piano posture, which is vital for playing the piano with a correct technique.
The rest of the course is divided into parts on fingering, keyboard layout, musical notation, basic music theory, and a few beginner song tutorials including Ode to Joy and Greensleeves.
Overall, I think it's an exceptional free piano course that any beginner should enroll in as it's in an easily digestible format yet effective.
Facebook Groups
I know it is not the most popular option among other ones, but it's still worth trying. I'm a member of several Facebook groups for piano players and learners, and it is not uncommon to come across some piano teachers offering free piano classes for beginners and adults through Skype or Zoom.
For this method, I urge you to join Facebook piano groups so that you have a chance to encounter those teachers. After seeing an announcement for a free class, you can contact the teacher and easily arrange one or more free lessons.
These lessons can be flexible as you can work on more specific concepts you especially struggle with if the instructor also approves.
However, it is important to be aware that this method is not a sustainable one as any teacher would rightfully request payment after a few classes. After all, offering free lessons is their way to get their name out there and attract more students.
Still, I've come across many instructors on these groups that are willing to help beginner students without requesting a fee at any point, so I suggest that you spend some time on these groups to see which free piano classes are available to join.
Additional Free Piano Resources
Apart from the free piano learning lessons and courses, there are also a considerable amount of free resources you can find online that are to support your learning from various aspects.
Let's take a look at a few of them.
Musictheory.net has always been a great support for my piano education, especially at times when I was preparing for the ABRSM exams.
This is a fantastic free music theory resource that not only piano learners but also any instrument player can benefit from. It is one of the most comprehensive and well-organized websites to teach music theory and includes lessons, exercises, and various tools.
You will find a wide variety of concepts to learn and practice such as staff identification, ear training, rhythm, intervals, and chords.
Overall, the site offers a well-rounded free online music theory resource that intends to teach beginner and advanced music theory to all.
Learning piano scales is vital for learning, performing, and composing music, yet they are often overlooked by beginner students.
This website is, however, seems to perfectly grasp the significance of the scales. It is exclusively dedicated to teaching everything about the piano scales, from the most basic major scales to the exotic scales such as the Egyptian scale or Yo Scale.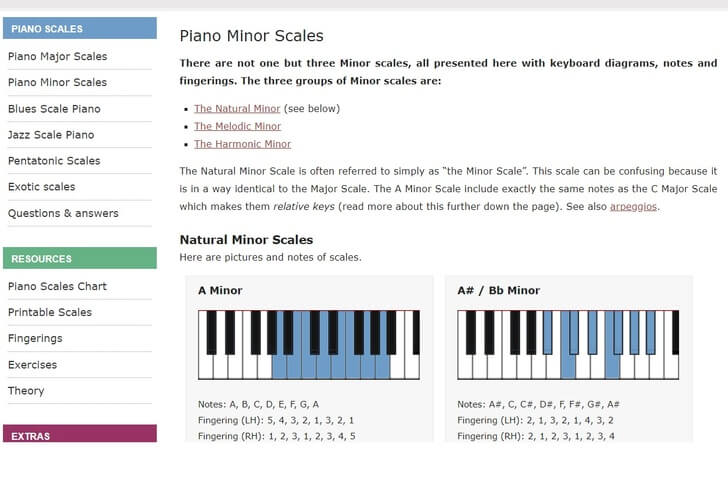 The website also aims to make the learning of scales more fun by explaining how to use them and providing musical context, as usually what makes the scales boring is that they don't make sense to beginners and are therefore deemed dull and unnecessary.
This site tries to overcome this misconception about scales through its unique and enthusiastic approach. Below each scale, you will find information about its fingerings, keyboard layout, notes, and relative keys.
If you are eager to learn piano scales but not sure which ones you should start with, you can also check out this post: Which Piano Scales to Learn First as a Beginner?
Conclusion
I hope you found this in-depth guide to learn piano online for free useful.
As you can see, there are numerous ways to acquire beginner or intermediate piano skills online without spending a penny. While these methods can't substitute traditional face-to-face piano lessons or paid high-quality individualized online programs, they are still excellent resources for beginners.
After all, some of us want to learn only for fun and to please ourselves and our loved ones, and/or we may not prefer to financially commit to expensive courses.
Did you like these free ways to learn piano? Do you think learning piano online for free is efficient? Do you know any other way for learning piano for free?
Let me know in the comments below!